👋
This post is from the older version of this blog, and was originally written in late 2020.
Hi there, J here. ♡
See you never, 2020, and cheers to 2021!
2020 is definitely going to be one of the years I pretend to have selective amnesia about, because in addition to being a hot mess for the entire world, all I did for the majority of it was stay at home and admire cute things while playing idyllic life simulator Animal Crossing: New Horizons, bug-fest Cyberpunk 2077, and gacha hell Genshin Impact. (´・ω・`)
Not incredibly impressive, but what's most important is that you made sure to take care of yourself during these challenging times ♡—at least, that's what I tell myself. 🥺
In the spirit of kicking 2020 out of our lives, and welcoming our new bae, 2021, I wanted to do a roundup of all my faves from this year: games, kawaii gaming accessories, and music! 💖
But before I begin, this was also the year I started this passion project of mine—Pretty Cute Gamer, where my mission is and will continue to be keeping everyone in the loop of everything in the intersection of cute and gaming. Thank you so much for joining me on this journey! 🥰
Disclaimer: this post contains some affiliate links that will result in a commission at no cost to you. Every commission goes back directly to maintaining this website. Thank you for your support! 💖
---
♡ Games ♡
---
Genshin Impact
Or what I affectionately refer to as "Gacha-hell BoTW, with quality husbandos and waifus" ♡
Genshin Impact was the reason I've simped extra hard over fictional men (and women) this year, and I'm not really mad at that at all, to be honest.  For those who are unfamiliar, Genshin Impact is a free-to-play gacha game available on the PC, Mobile (Android and iOS), and the PlayStation by miHoYo, also known for the game Honkai Impact. I first got into it because I kept hearing comparisons between Breath of the Wild and how Genshin, um, took "inspiration" from several of the mechanics from that masterpiece of a game. (Also if I'm completely honest I saw Kaeya for the first time and was like I have to play this game… 🥺 ) Before I knew it I had it downloaded on my PC, phone, and iPad like I was planning on playing it in every part of my house.
Highly recommended for those who love collecting things, especially cute husbandos and waifus. ( U w U ) Just be warned, while it's free-to-play, miHoYo knows how to get you spending by dangling new husbands and waifus in front of you. Xiao simps, wya?
Animal Crossing: New Horizons
Or the best source of escapism since March of 2020 ♡
I've played Animal Crossing sporadically throughout my childhood, but Animal Crossing: New Horizons was the first time I felt especially invested in making my island paradise my escape from reality. It definitely kept me sane this year and reminded me of how cute Isabelle, Timmy, Tommy, Diana, Bob, and Marshal can be! 😘
🎀 Animal Crossing: New Horizons is available on the Nintendo Switch.
Cyberpunk 2077
Buggy af, but there's a gem underneath all those critters ♡
I'll be honest, I haven't finished Cyberpunk 2077 because of the bugs on the PlayStation—it crashed on me twice in one session and I've been mad at it ever since. But when I do get back to it, I know I'll have a good time because of the storyline and characters, who are the real stars of the show. Plus, driving around to Shygirl's Slime and Ponpon Sh*t is my peak Night City aesthetic. ✨
🎀 Cyberpunk 2077 is available on the PlayStation, Xbox, and PC. (But I'd only recommend playing the PC version right now!)
---
♡ Kawaii Gaming Accessories ♡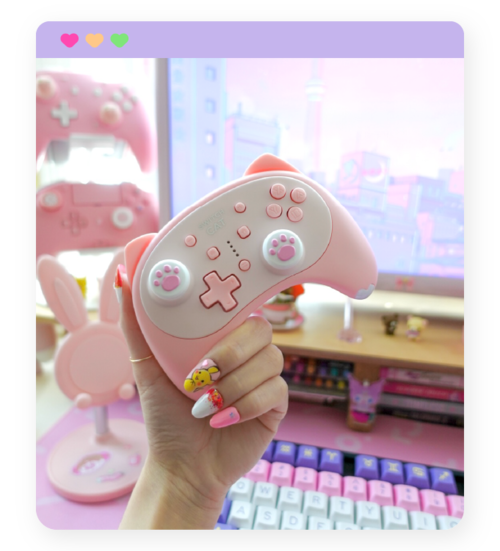 ---
Honorable Mentions
---
♡ Bops ♡
My Spotify rewind is either complete trash or a goldmine, but I'll let you be the judge of that. 😌 I'm really into City Pop, Future Funk, and Lo-Fi, so if you like any of those genres I hope some of my picks suit your fancy! 💕 K/DA and Rainych definitely carried me through most of the year. 🥲
---
That's all, everyone! Cheers to 2021, and here's hoping that this year is an even cuter one. ♡
I hope you enjoyed this list of some of my faves from the dumpster fire that was 2020! I'll be writing more content on the blog side of this site from time to time so please check in whenever you'd like. See you soon! - J 🎀