With 2022 now in the past, I wanted to reflect on all the past year had to offer when it came to products and games I was able to try out, and spend some time organizing my thoughts and experiences so that I could share them with you!
So in this post, I'll focus on primarily covering products and games, but will leave some time at the end for everything else that doesn't fit into either category. From the release of games like Cult of Lamb to Elden Ring, and to products like Valve's Steam Deck, I'd say 2022 was good to us gamers. So let's get into my list, in no particular order, and I hope you'll find something here that piques your interest. :)
🌱
Products marked with a * are products I received as gifts and products to review. I was not paid to include them in this post, and all opinions on the product are my own. This post may also contain affiliate links, that, when used, allow me to earn a commission at no additional cost to you. This helps me keep this publication running, so thank you so much for your support!
---
Products I Adored in 2022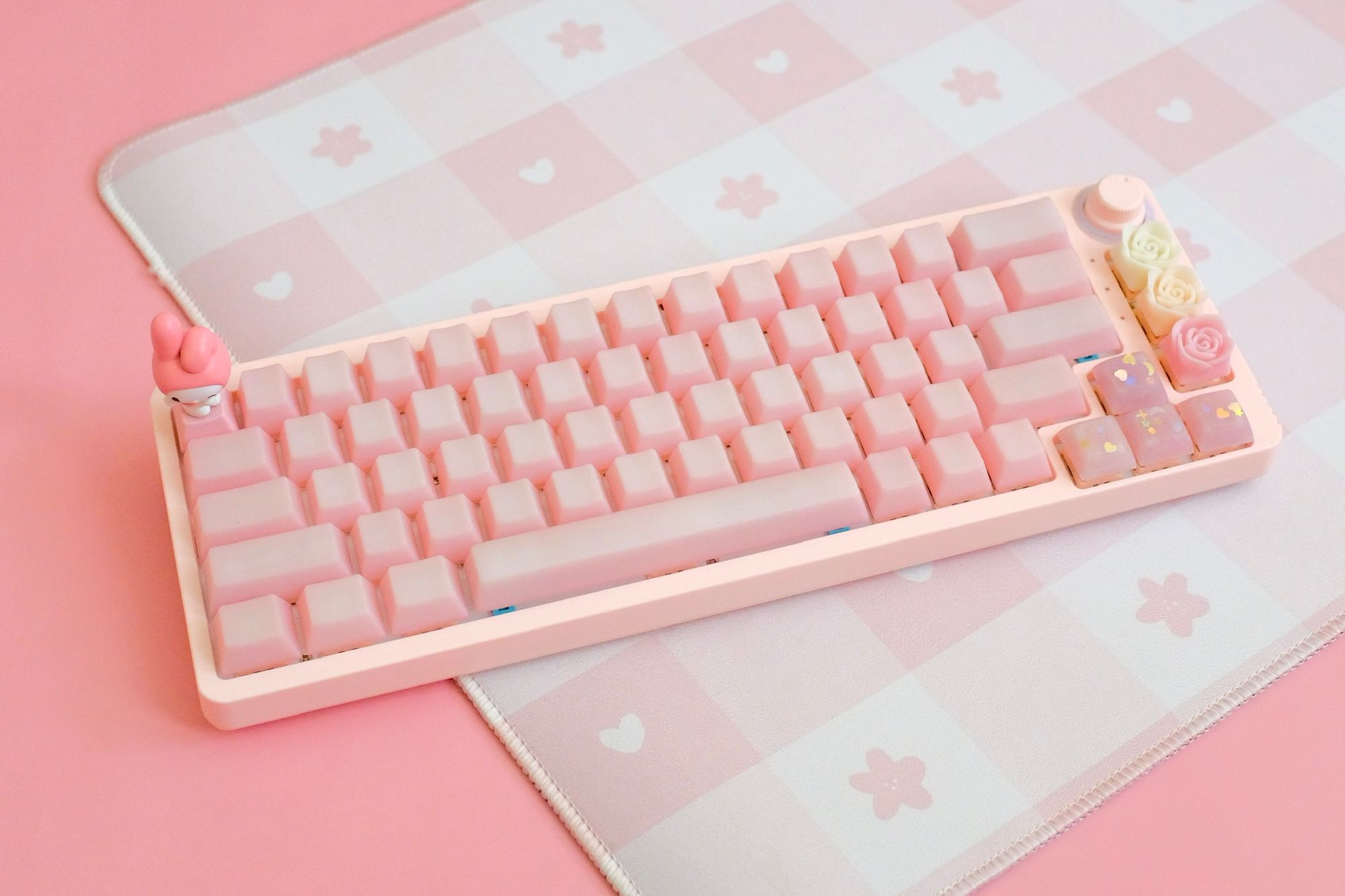 I went through a big mechanical keyboard phase in mid-2021 to basically early 2022, but I've since settled down into a comfortable keeb place, I think. My strawberry candy bar of a budget 65% mechanical keyboard might not be the fanciest thing ever, but after spending nearly an entire year with it as the daily driver for my gaming setup, I've been quite content with this simple keyboard. I've realized my sweet spot for a mechanical keyboard involves the following features, all of which the LK67 has at a <100 USD price point:
It's easily moddable (e.g., you can open up the case and separate the pcb from the plate if you need to without much struggle)
It lets you hotswap the switches
It has modifier keys that you can can adjust to fit your needs
It has a rotary knob
It can be connected to your computer through a variety of modes — wireless 2.4 GHz connection, BT, or wired USB-C connection
It comes in different colors (mine is naturally a pastel pink!)
With a little bit of customization and some mods, the LK67 can quickly become the budget 65% keeb of your dreams. …Maybe. It did, at least, become that for me in 2022. :)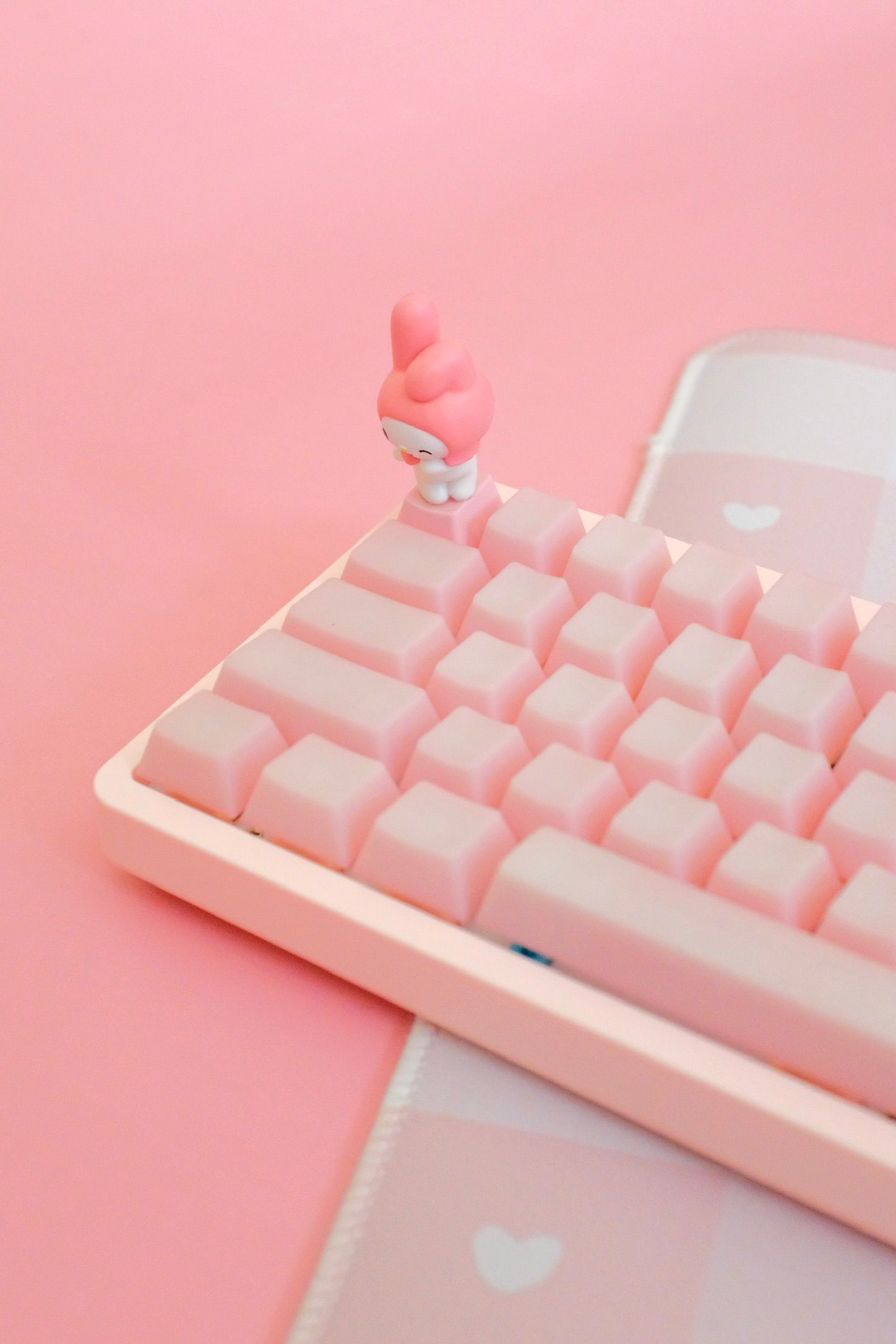 It isn't perfect, however. A couple of things to note if you ever consider picking one up for your own setup:
I wasn't super into the RGB lighting that it had and almost never turned it on. Without RGB on, the LK67 could stay on for at least 3 weeks while connected via Bluetooth to my Macbook and my PC, especially since it would hibernate after several minutes of inactivity
The hibernation of the keyboard after several minutes of inactivity while wirelessly connected can also be annoying, tbh, since the keeb won't respond immediately upon wake
Switching between multiple devices on Bluetooth presets takes at least a couple of seconds
The build quality of the board itself isn't the greatest, since it is a relatively cheap keyboard. It's basically all plastic, all the time
💡
Protip:
If you don't like the look of the dark symbols indicating wireless modes and Caps Lock, Win Lock, etc. on the top of and side of the keyboard, you can take a
Magic Eraser
and gently buff them off. I've done this myself for a cleaner look. You can also remove the logo on the side in the same way if you'd like.
I've since retired my LK67 as of the time being to try out a new keeb for the new year, but I still adore it and will likely pull it out to give it a new look sometime later in 2023. For those who are curious, my LK67 is wearing some Strawberry POM keycaps (blanks) and artisans from Capsmiths and Arcana Keys. Switches are lubed + filmed Cotton Candies (tactiles).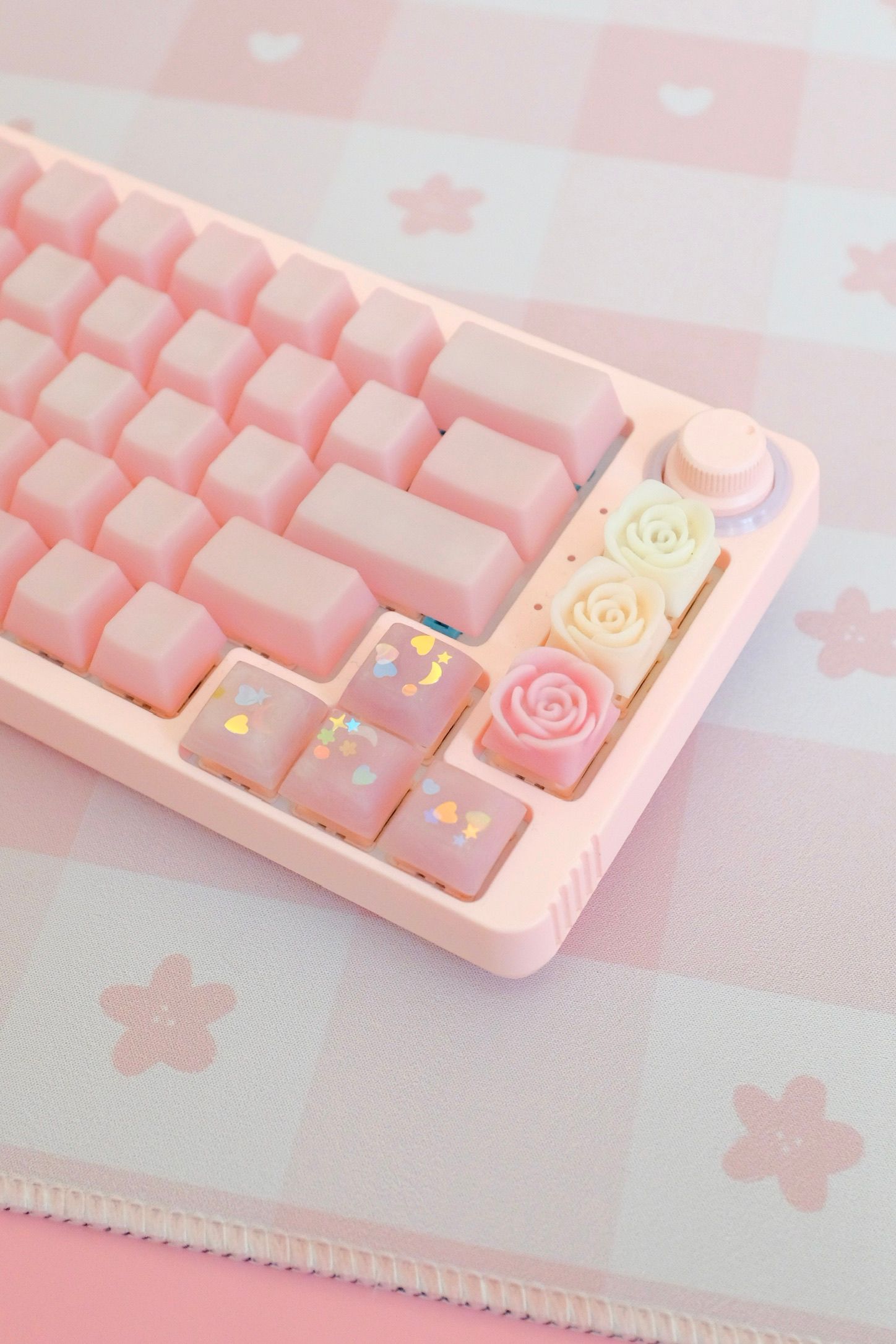 You can purchase the Gamakay LK67 on Amazon US here. Alternatively, you can also purchase it on Banggood here, which provides international shipping.
(New) Keyboard Pic Tax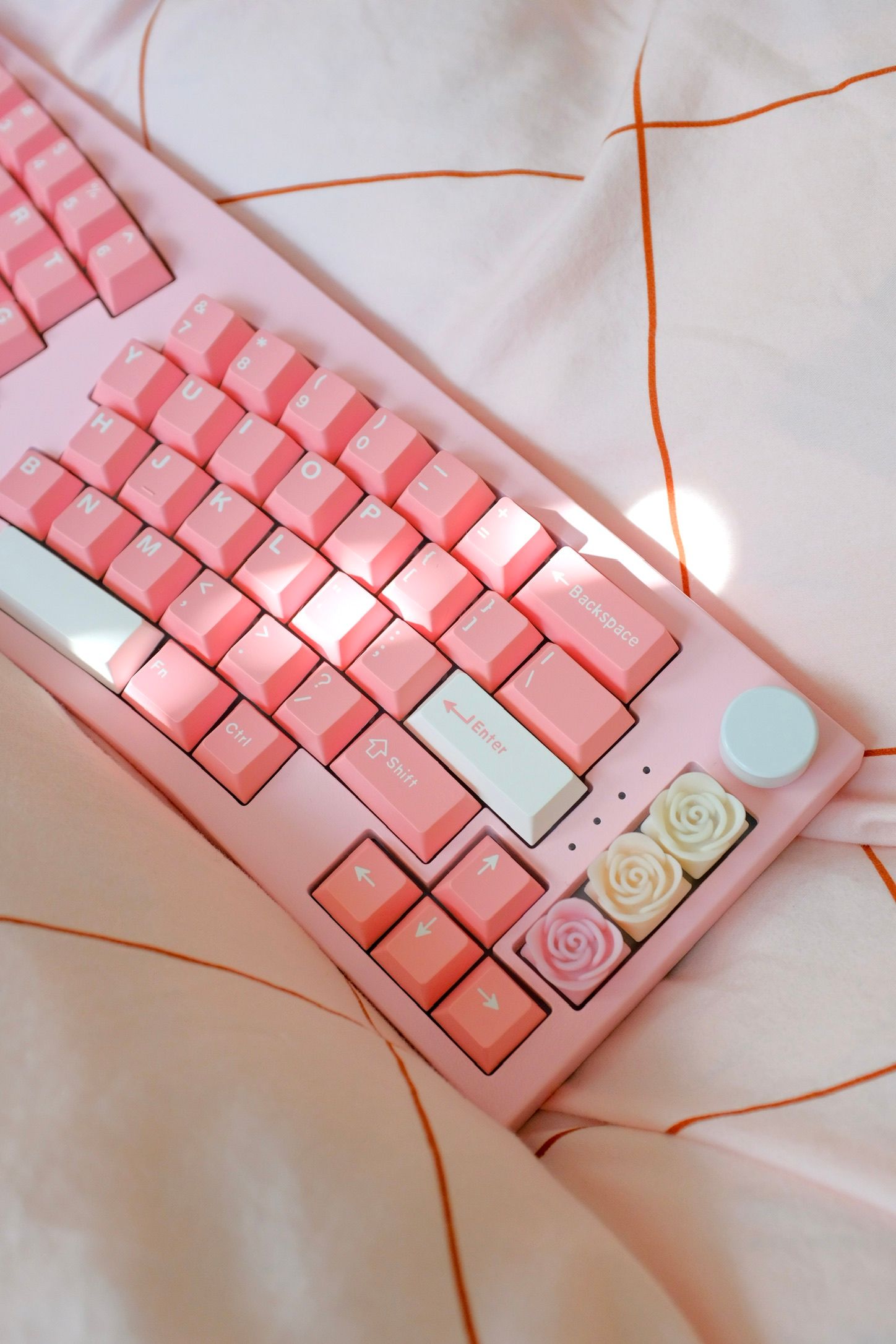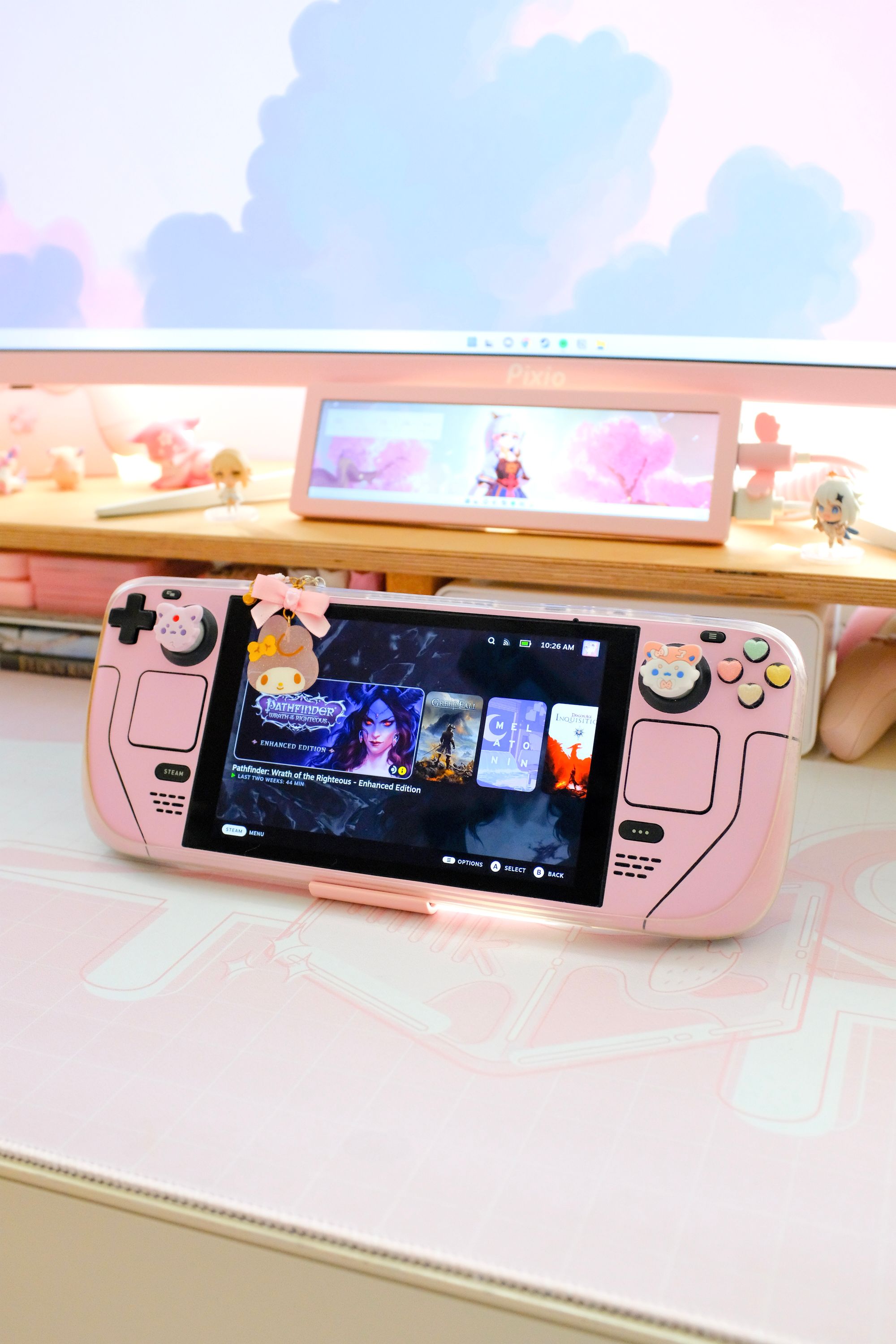 I love this thing. The TL;DR reasons? It's basically a mid-tier gaming PC at a pretty affordable price point. Valve doesn't GAF what you do with it. It plays indie titles like Vampire Survivors to demanding triple A titles like Cyberpunk 2077 at 30fps+, can output to a proper monitor or TV, has incredibly useful touchpads, decent speakers, extensively customizable controls, and runs Linux, Windows and even Mac OS if you're determined enough. I swear I'm not being paid by Valve to shill for Steam Decks. (Unless...?)
As a long-time handheld console gamer ever since my grandma gifted me a glacier GBA (thanks gma ♡) ages ago, I was always dreaming of a day I could play proper PC games (you know, that don't cost 59.99 USD when ported several years later to the Nintendo eShop) on a console with a form factor like the Nintendo Switch. As PC handhelds started becoming more mainstream via brands like GPD and AYA Neo, I kept waiting and watching for something that didn't start at a 1000 USD price point, and one day, Valve blessed us with the Steam Deck. One pre-order in July 2021 and a purchase confirmation email in August 2022 later, the rest is history.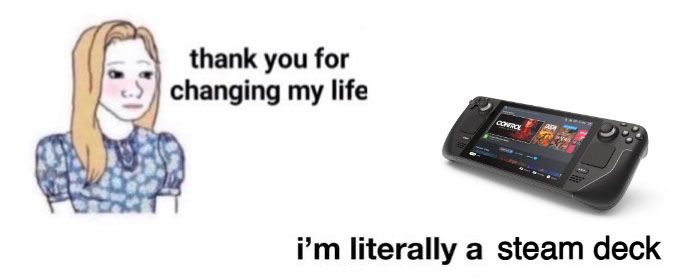 I've had the Steam Deck for almost half a year now, and I continue to use it practically every day when I want to game, but don't want to be at my desk. It's also my favorite travel companion, and I've almost found myself falling asleep with it in my hands on some nights, oop. It is also the machine that I use to play PC Game Pass games on, and the platform I enjoy playing Genshin on the most!
Some might ask—isn't it redundant to have a gaming PC and the Steam Deck? Fair. For some, it might be, but I find that the Steam Deck is the perfect partner to my main gaming PC. Sometimes I want to just bury myself in blankets while I play something more casual like Cult of the Lamb or Stray, and the Steam Deck is perfect for that. When I want to play something a little more involved, like Cyberpunk 2077, then I move to my gaming PC and make myself comfortable at my setup. Steam Cloud manages saves across devices just fine, so the pick-up-and-play experience is something that has made me love the combination of a Steam Deck and a gaming PC even more.
Basically, if you're an avid PC gamer and dream about taking your PC-exclusive titles or AAA games on the go, the Steam Deck is likely for you.
I can't wait to see what Valve does with the second generation Steam Deck. Maybe an OLED screen? A white colorway? A better battery? A sleeker design? A girl can dream.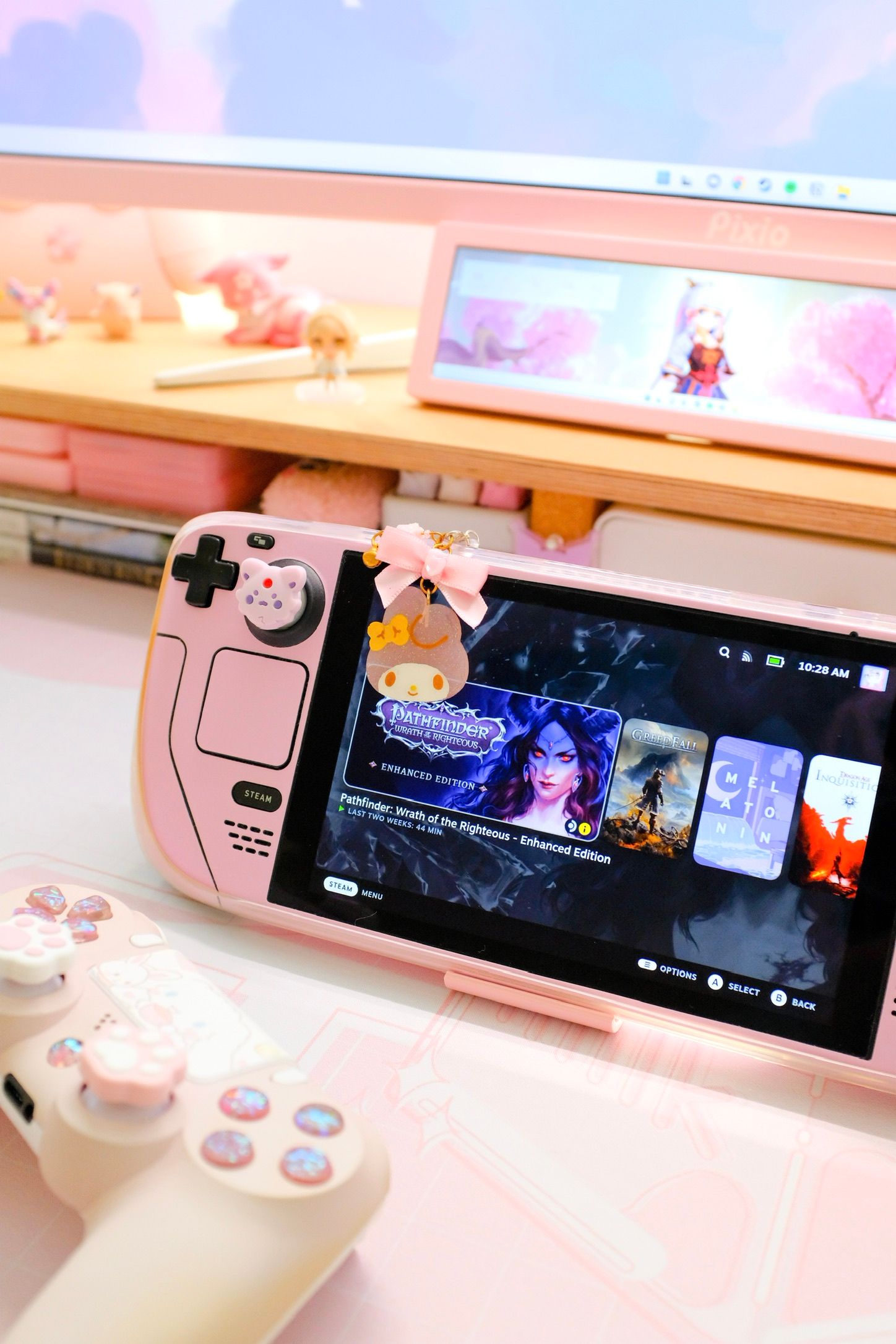 The Steam Deck is now widely available to purchase (399 USD+)  in select AMER and EMEA countries via Valve directly, or through Komodo for select APAC countries.
---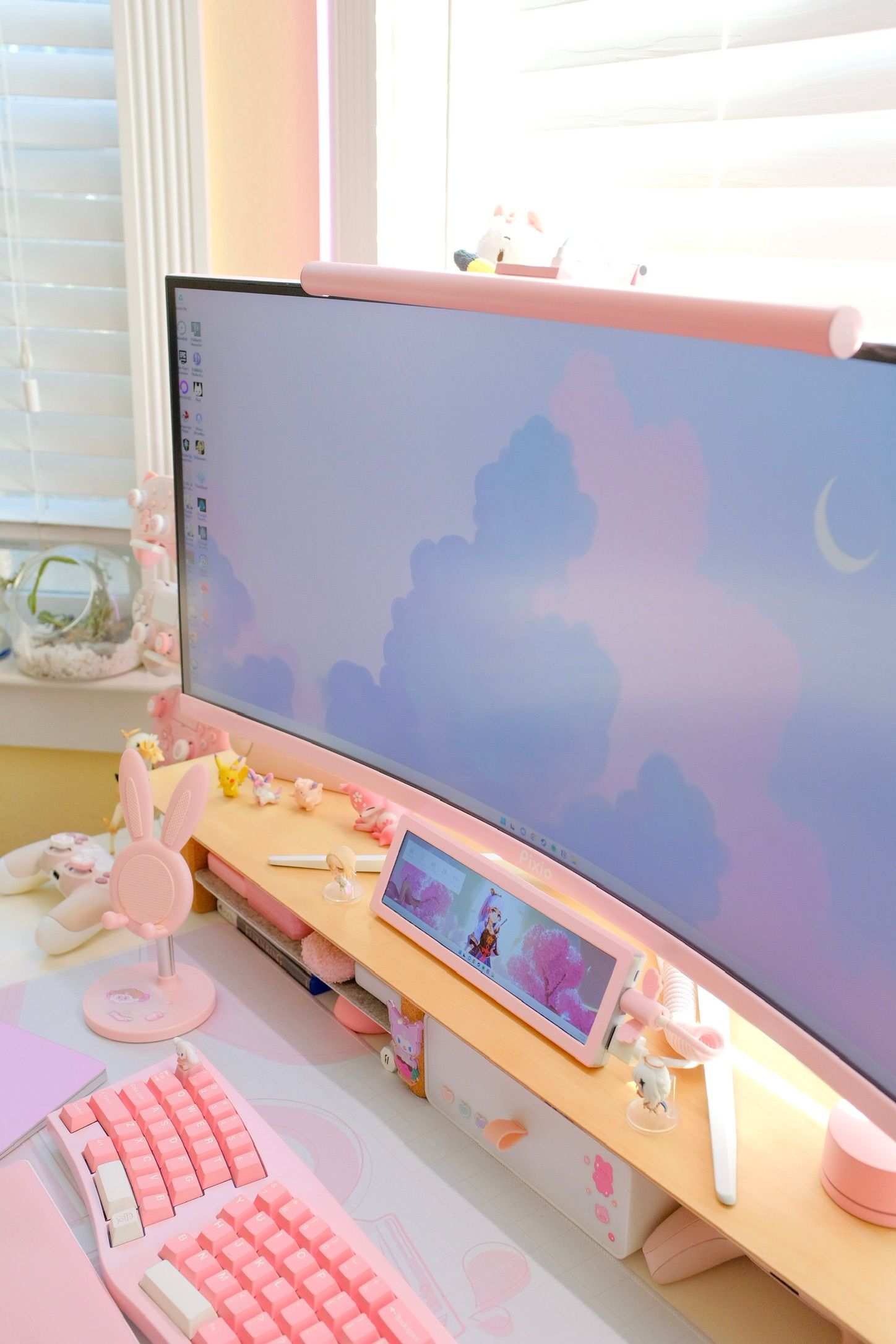 After a long time of owning a 1920x1080 1080p as my main gaming monitor, Pixio graciously gifted me one of their PXC348C 34", 144hz gaming monitors. Ever since receiving this monitor to try out, I don't think I can go back to having a standard 16:9 monitor as my main gaming monitor. :')
There's just something extra special about an ultrawide monitor with a slight curve to it, especially when it comes to experiencing open-world games with pretty landscapes. Genshin and Cyberpunk 2077 are my favorite games to play on it, with Assassin's Creed Odyssey, Valhalla, and Dragon Age: Inquisition also looking especially pretty while running at 3440x1440p.
An ultrawide monitor might not be for everyone, so I'd recommend that you at least sit and game in front of one for an hour or so before deciding to pick one up. If you are considering buying this particular 34" ultrawide, you can do so here on Amazon US or directly through Pixio. I wouldn't hesitate to recommend it.
---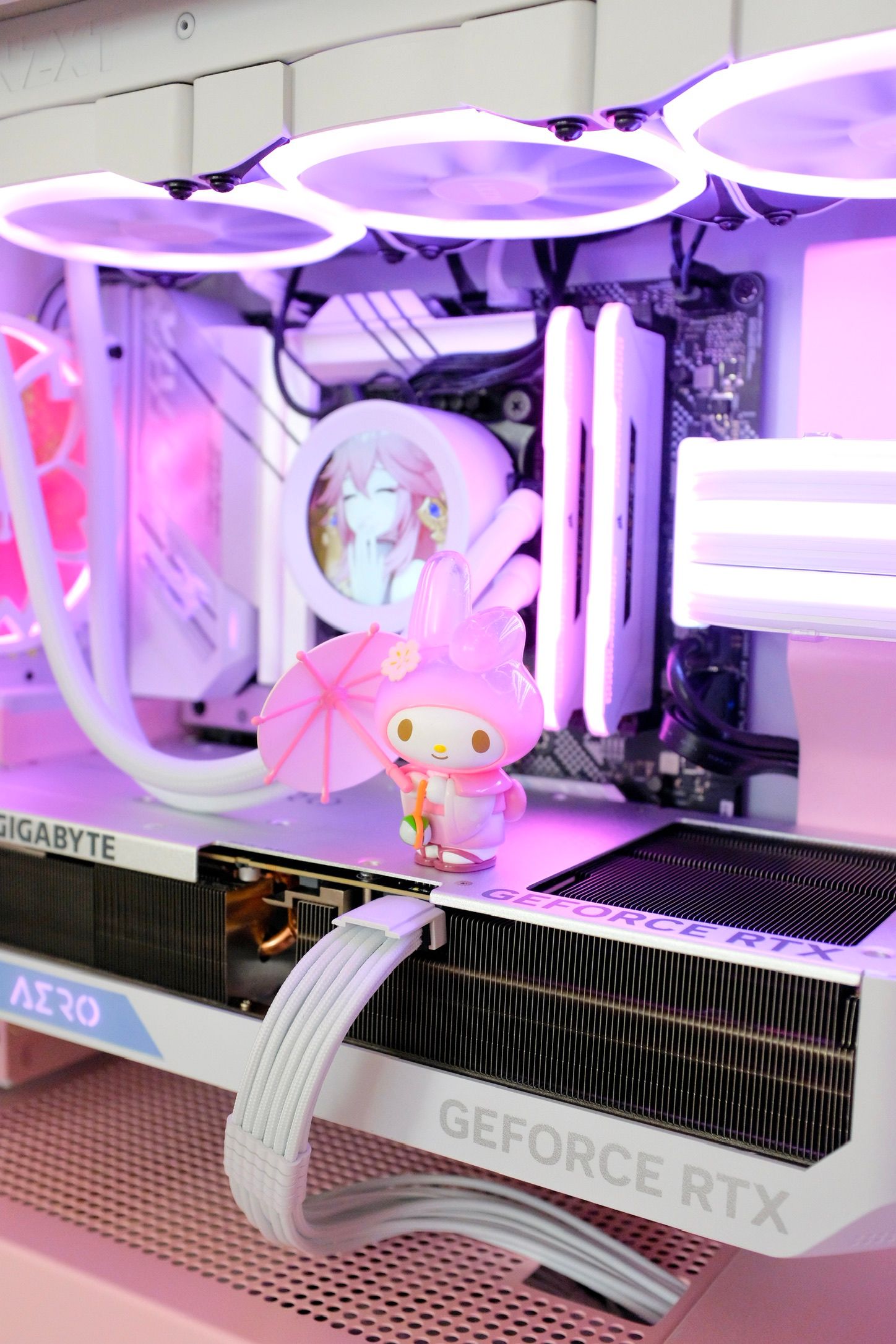 My custom PC I built for myself
At several points in the past I used to game exclusively on laptops that my family had. Modded Sims 2, Portal, Maplestory, Neverwinter Nights. Good times. So after a decade or so of being a console gamer, the start of 2022 was the time I started seriously considering the idea of building a gaming PC. I really missed PC gaming, and especially mods. Ridiculously modded Skyrim is arguably the best way to play Skyrim.
At the time, PC parts were finally starting to become more widely available and were starting to drop in price. Finally, in early March 2022, I saw the GPU I had been eyeing (Gigabyte's 3070ti Vision OC, a white GPU) become available at close to MSRP, and snatched it up. That GPU was the first thing I bought for my PC build, and after a lot of planning with the help of PC Part Picker, I had everything I needed to build my very first gaming PC in late March of 2022.
I spent a full day (8+ hours) putting together my first build and it was honestly one of the most fulfilling things I've done throughout the entirety of 2022.
Earlier in December, I was given the exciting opportunity to collaborate with Intel to showcase their 13th generation core processors, and specifically, their i9-13900K. I took that as an excuse to upgrade my build to prepare for 2023 releases like Starfield and Cyberpunk 2077: Phantom Liberty, and also an excuse to get my hands on a 4080 or 4090. I was only able to secure a 4080 (Gigabyte's 4080 Aero OC) in the end, but I love it anyway and it's enough for my needs. My upgraded build is now finished, and while she lives under my desk right now, I always sneak peeks to admire her from time to time. :3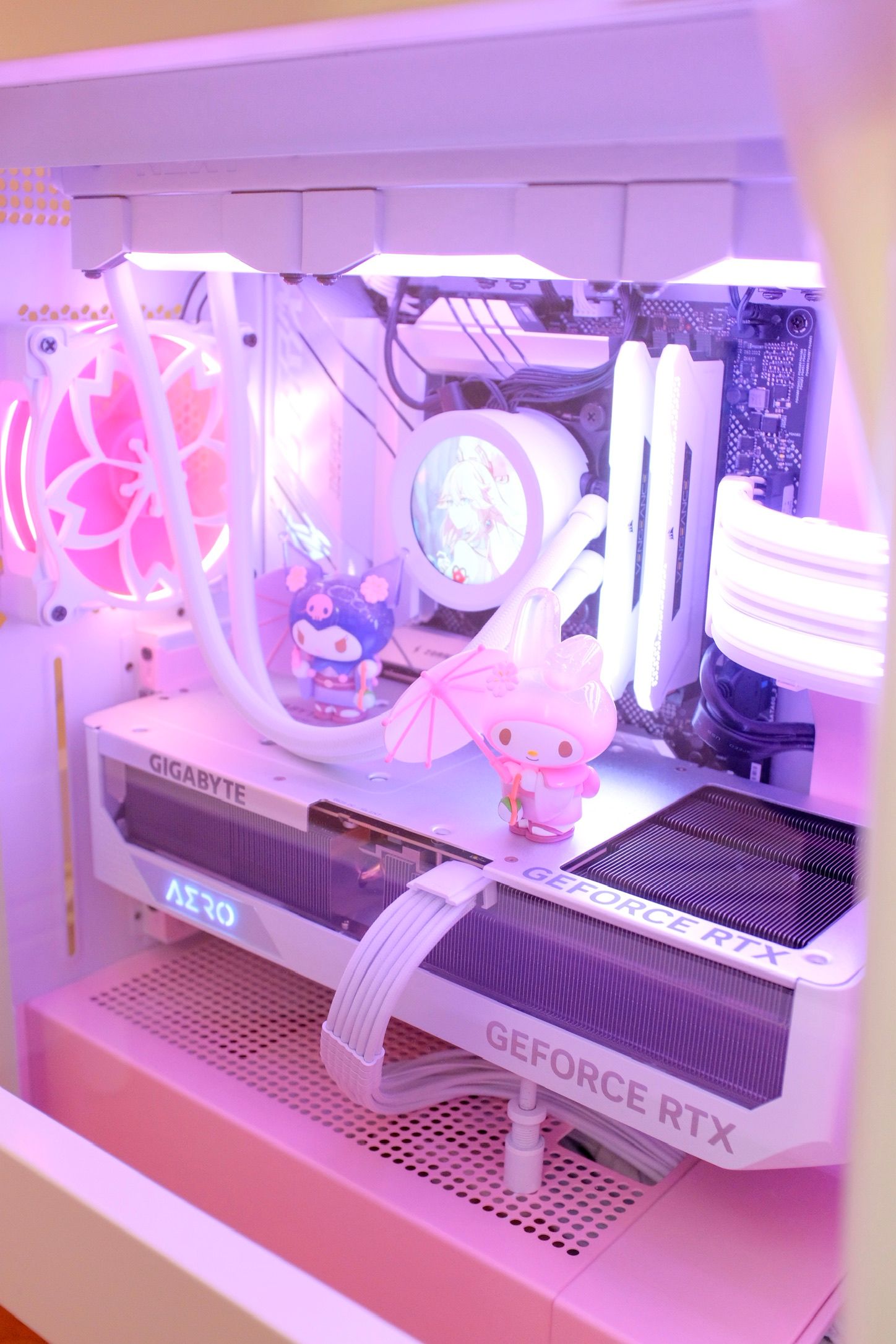 If you ever want to get into (or get back into PC gaming), I'd highly recommend considering building your PC yourself. You know your needs and your aesthetic the best, and there are a wealth of resources at your fingertips to help you on each step of the way. It can be intimidating at first, of course, but if you're willing to put in the time and effort to learn about the process, it's more than worth it when you see your rig come alive for the very first time by your very own hands. Plus, you'll have a baseline of knowledge that will help you when or if you ever need to troubleshoot or upgrade your PC in the future! This guide by LTT is a great place to start.
Ok, hear me out. A monitor light bar might sound like an underwhelming thing to add to a favorite list, but it's literally the main light I turn on when it's dark and its indirect light helps prevent additional eye fatigue, which is kind of important, since you need your eyes to be in pretty tip-top shape most of the time, especially while working or gaming.
I barely have enough room for all the stuff that's on my desk in the first place, never mind a dedicated desk lamp. My light bar solves that problem since it lives on top of my monitor. Big fan.
You can purchase the monitor light bar I use, the Xiaomi Mi, here on Amazon US.
Special Mentions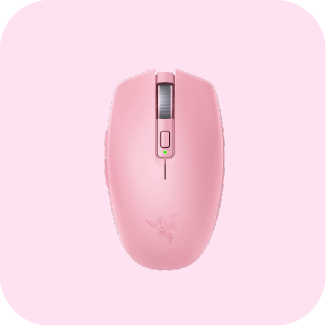 A compact wireless gaming mouse with 2 connection modes (2.4 GHz and BT), perfect for gaming on the go or a travel gaming setup
A light and airy gaming mouse that glides like butter on most deskmats, and the mouse I grab when playing FPS games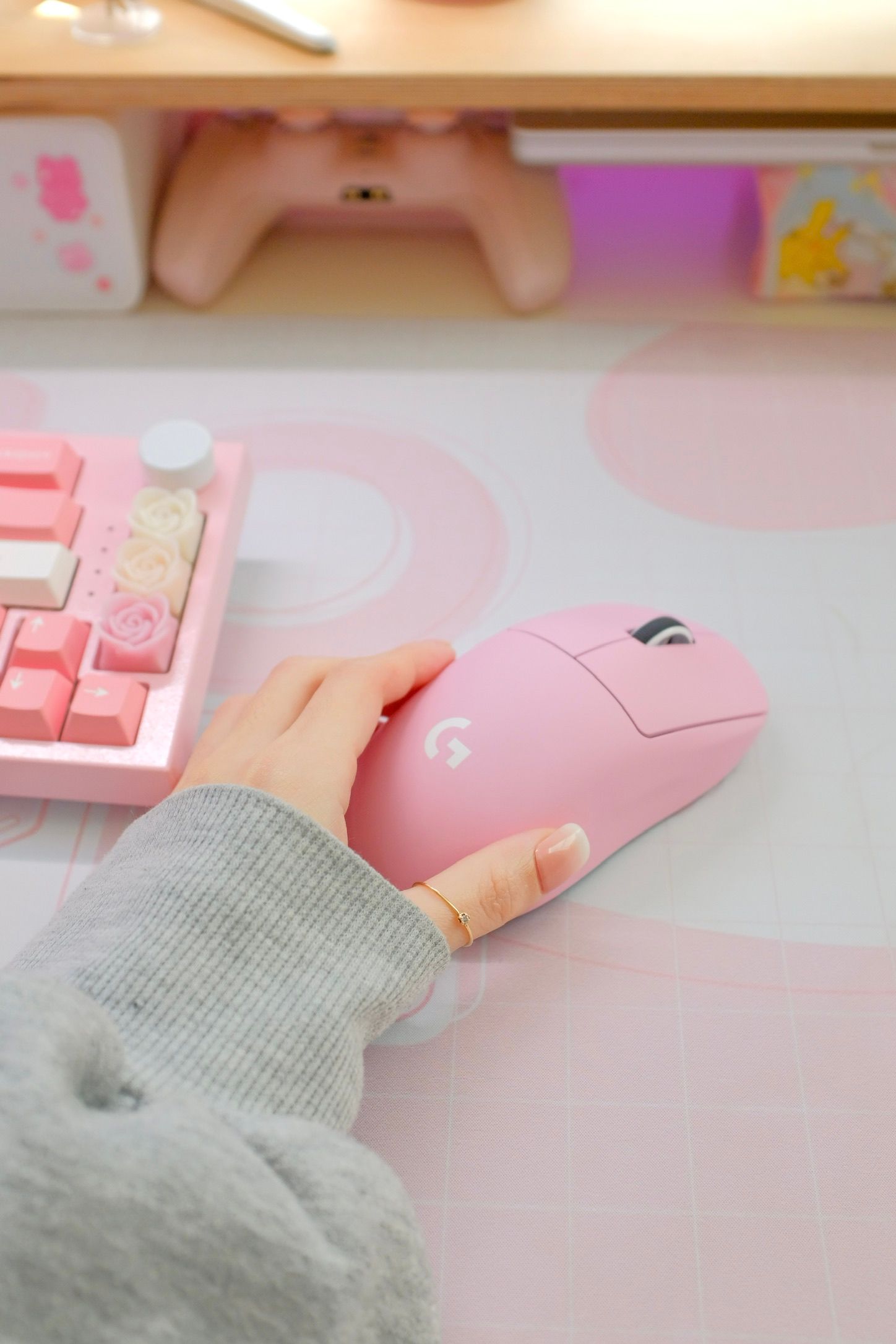 A beautiful diffused RGBIC light strip that I have on almost all the time at my setup for the ambience™
A lil' monitor can do a lot—everything from being a mini designated Spotify screen, a PC temp monitor, or just a place to keep your virtual sticky notes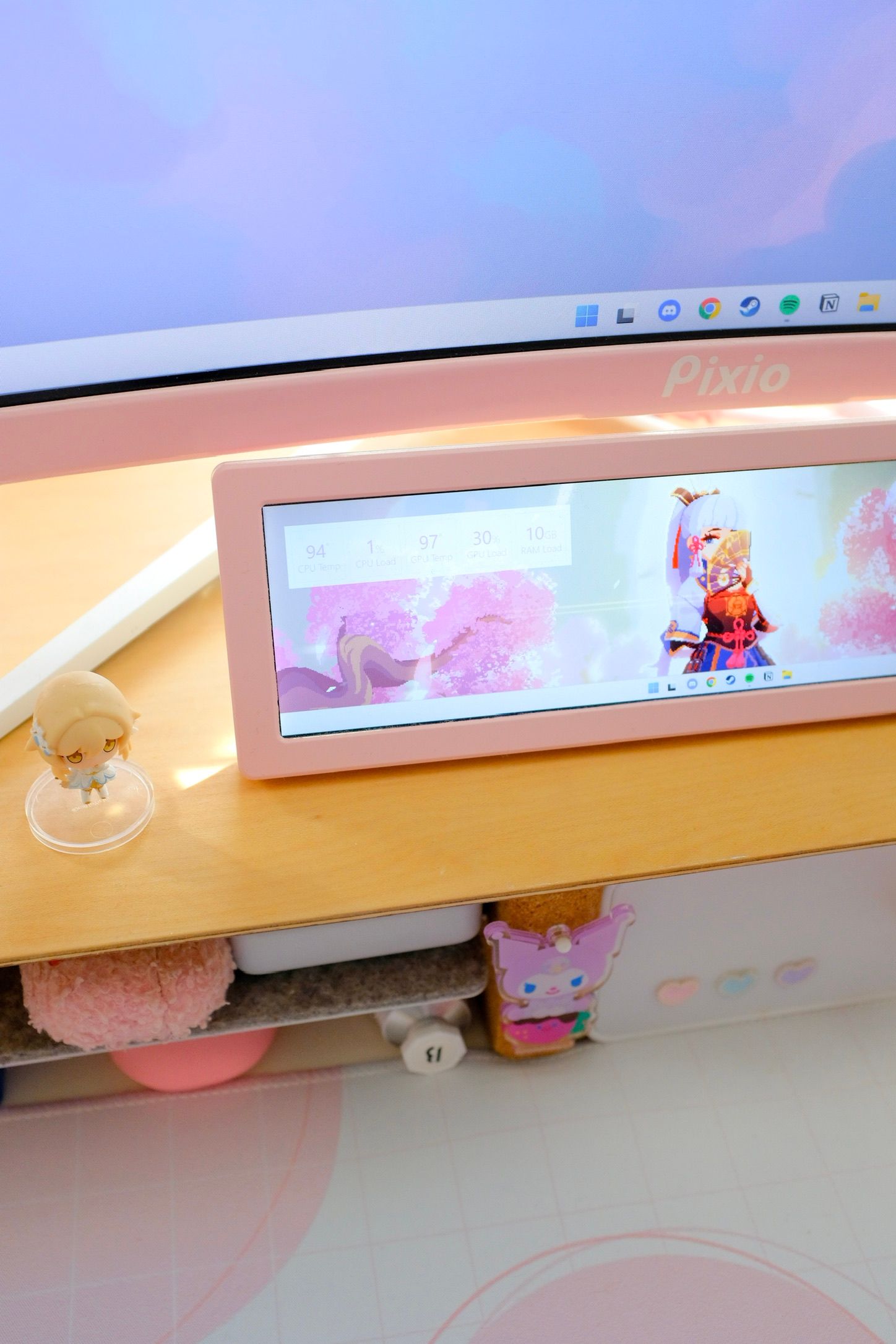 A not-terribly chonky and stylish battery pack that basically gives you a full charge for the Steam Deck, extending your play time
---
Games I Loved in 2022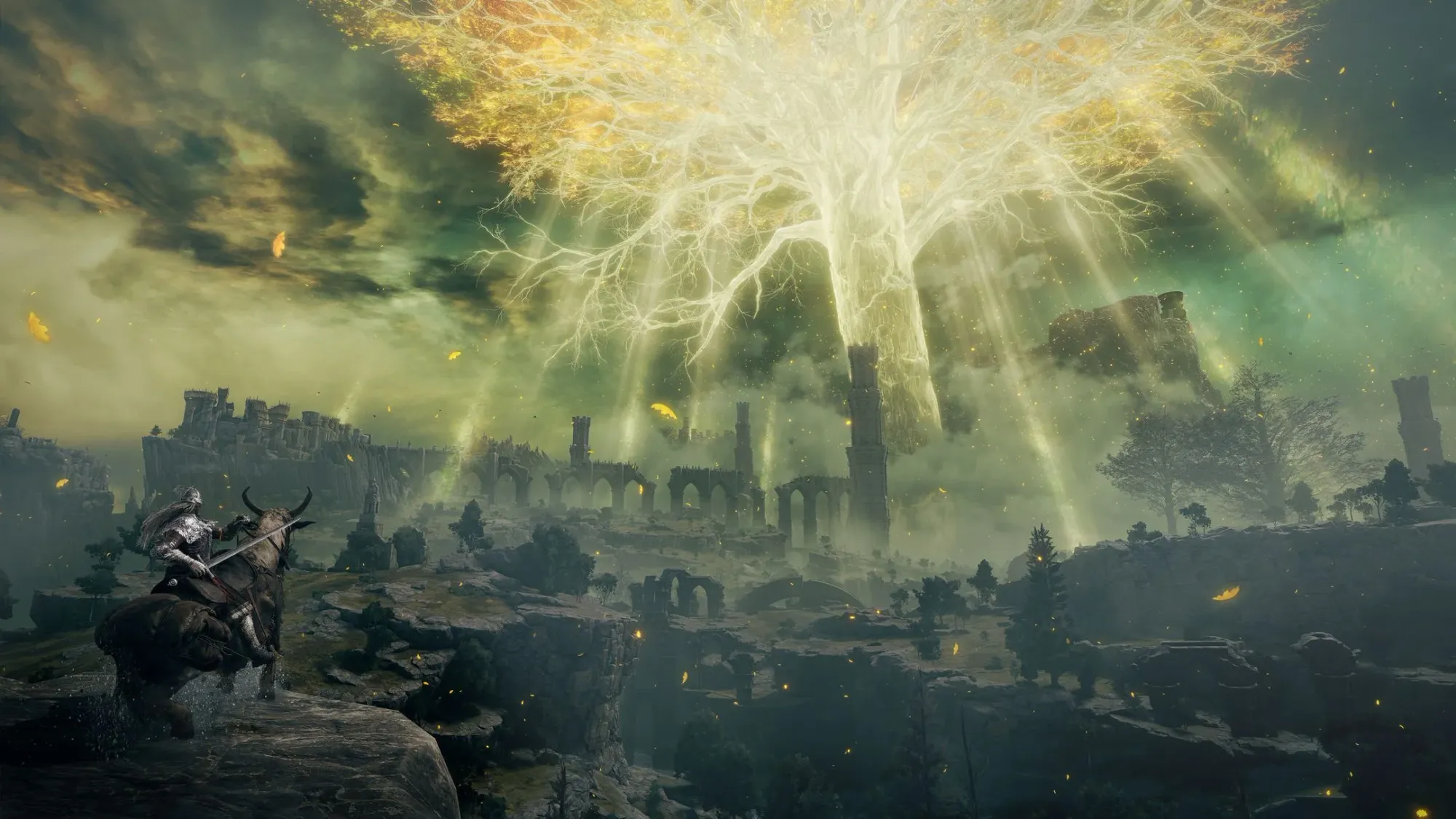 Soulsborne games were never my thing, but after spending 140+ hours rolling bosses and getting rolled by bosses in the Lands Between, when it was time to vote on which game should win GOTY, I would like to think it was one of my humble votes that helped secure GOTY title for Elden Ring in the end. I never thought I would like games that are notoriously difficult, because I always figured that constantly dying to a random rot dog or dragon boss #501 sounded like a bad time, not a fun one.
I was wrong. It's SO fun. And I say this without being sarcastic! :)
The Lands Between are as gorgeous to explore as they are terrifying to experience if you, like me, are unexperienced with seeing an aggressive "YOU DIED" over and over again (courtesy of the Tree Sentinel) right after crawling out of the tomb where you took a very long, long nap. But the feeling of accomplishment I got out of finishing the game in its entirely was more than worth the hundreds, if not thousands, of times I died in this game, and that feeling of accomplishment was only made better by the fact that I just love open-world games. Elden Ring gives you options, which is great for a newcomer to the ruthless difficulty of Soulsborne games. When you get stuck, you can go somewhere else to git gud™ and return to roll the boss instead of getting rolled by the boss, and I always took advantage of this. The only exception was that first Tree Sentinel in front of the Church of Elleh, because I'm stubborn.
If you're drawn to Elden Ring's beautiful but bleak world and the gameplay of dodge rolling, slashing, or slinging spells to victory, but aren't sure if the difficulty will put you off or not, I'd suggest giving the game at least a few hours or so. Run around Limgrave and do some sightseeing (avoid the crabs, it ain't worth it), and you might just find that you like the game enough to commit to playing it for 140+ hours to completion, just like I did.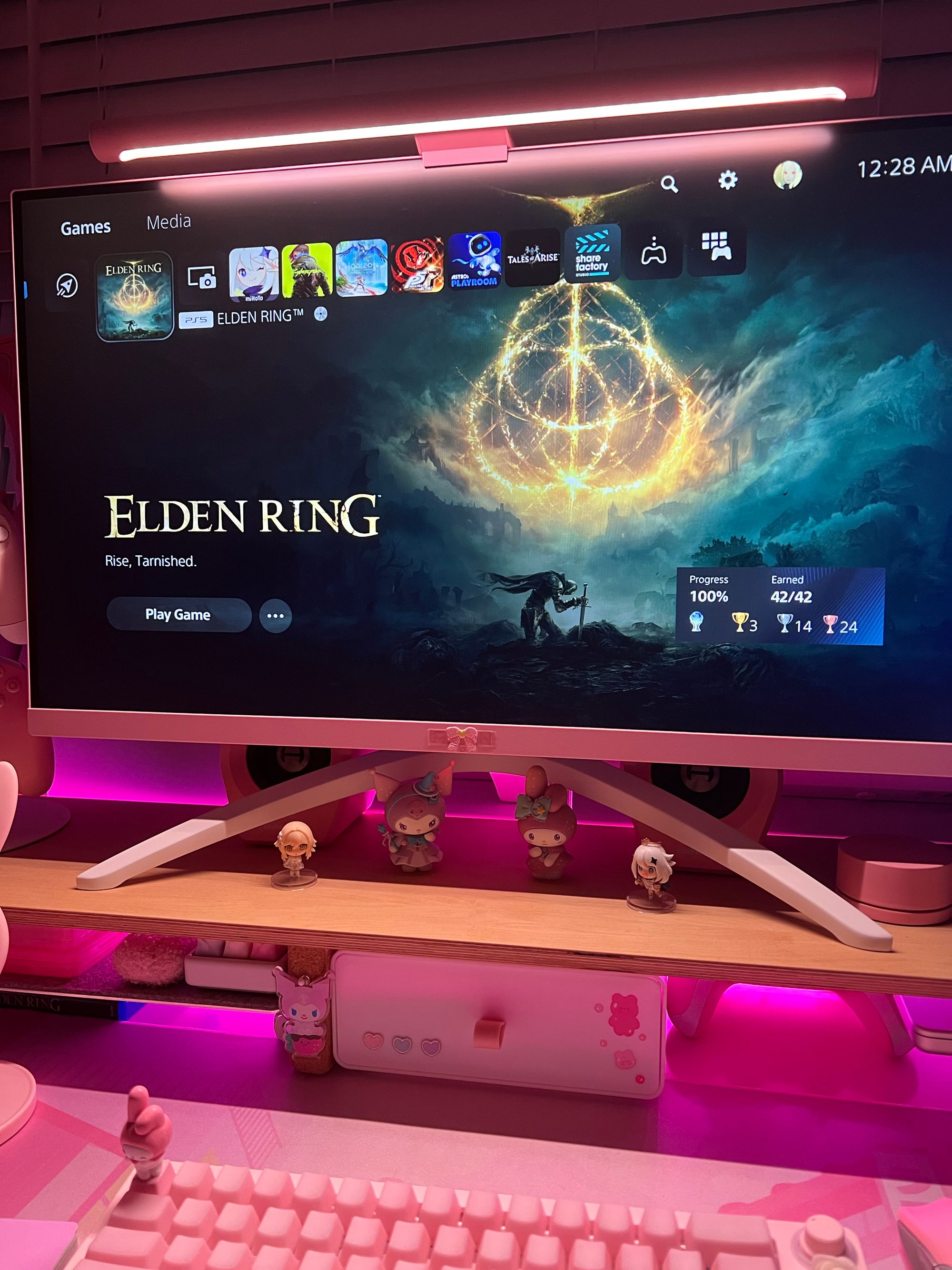 Two extra points that secured this game as GOTY for me: your faithful spectral horsey, Torrent, and the fact that you can play Fashion Souls™ as well. (The new hairstyles from the latest update are cute.)
Anyway, nothing's quite like getting your sh*t absolutely rocked by Malenia for 3 hours straight before finally being victorious at around 2am in the morning, and it's a memory I'll hold close in my heart forever. :') Thanks, Miyazaki. Now if FromSoft could announce the DLC, that would be perfect…
---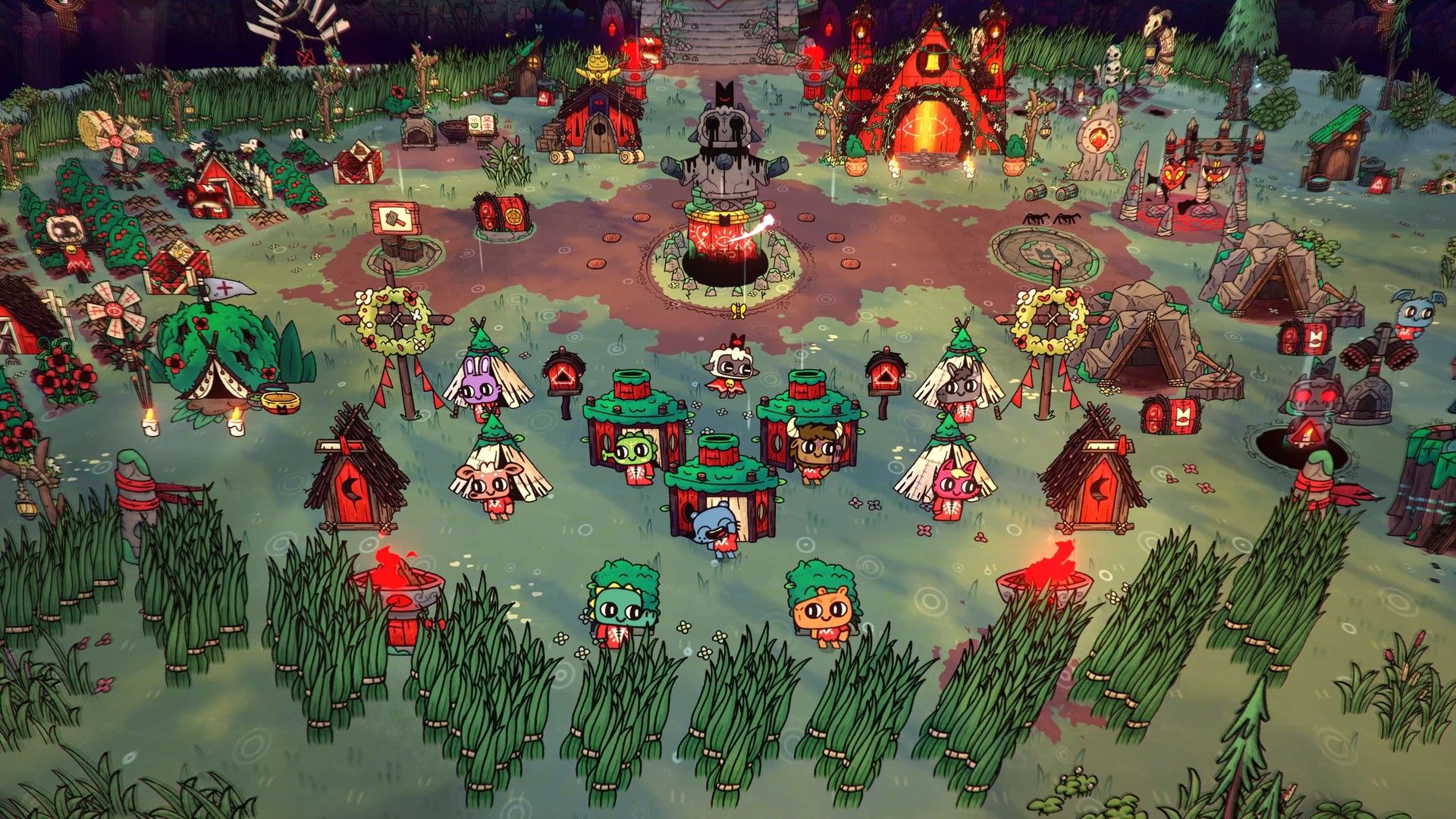 What do you get when you combine Animal Crossing with Cult Simulator?
The most adorable roguelite I've ever seen, with a banger of a soundtrack and a dark yet cute aesthetic to boot. Cult of the Lamb is the first game I played entirely on the Steam Deck, and it was the perfect game for it. It combines dark and spooky vibes with adorable animals that happen to double as your faithful flock of cultists, and, um, on occasion, maybe sacrifices to your god. Of course, you get to play as an adorable animal yourself—a little lamb that is as cute as they are deadly, and who has committed their cause to destroying their enemies and cultivating their cult. Doesn't that sound like a great time? It should.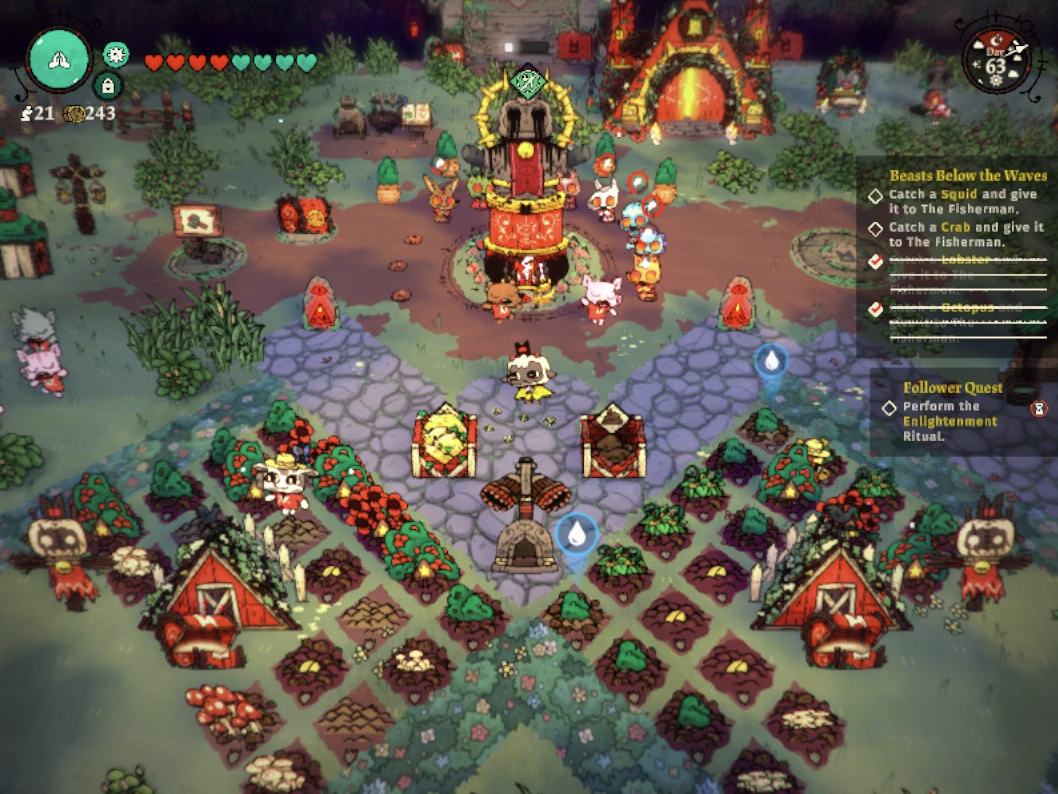 I love this game so much. So much, in fact, that I bought the vinyl and plushie set from Devolver Digital's official store. They're now available separately, but the plushie is often out of stock. It's also appropriately priced at 36.66 USD.
Cult of the Lamb is equal parts animal village / resource management sim and dodge roll + hack-n-slash dungeon-crawler roguelite. An unholy matrimony (pun intended) that works. There were times where I would spend way more time working on managing the cult instead of going out to clear the bosses just because it was so chill and then would run out of things to do, return to the bosses and feel a little OP, so pacing did feel a lil' bit off at times—that's on me. Oh, and also—your cultists don't guilt trip you when you don't open up the game for ages. Those who know, know.
It also has a dedicated "baa" button. If that doesn't convince you to play the game, I don't know what will. And when you play, I'd recommend going with the PC version.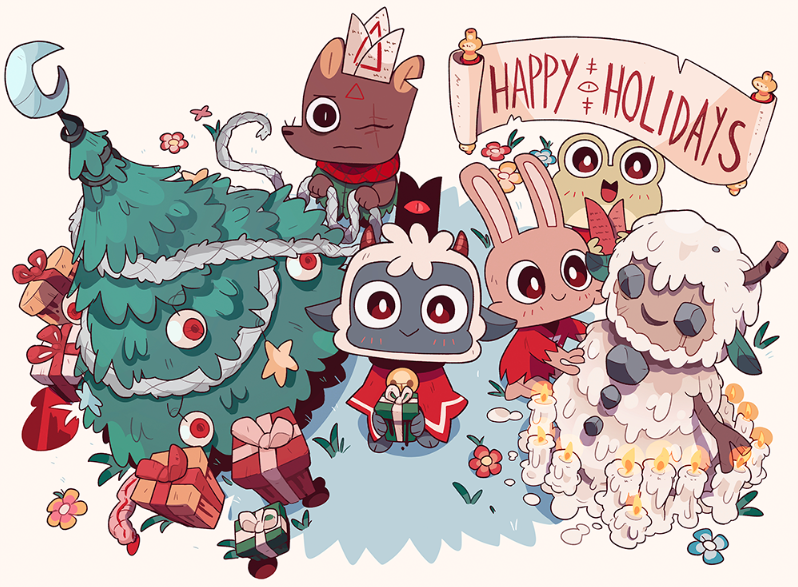 ---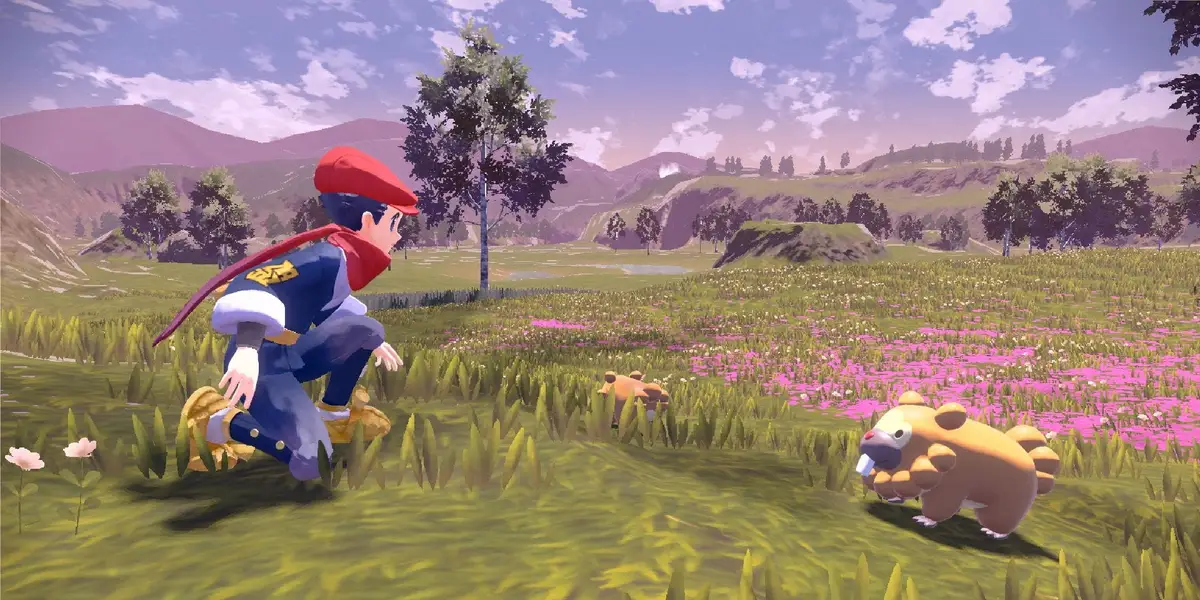 PLA is easily the most fun I've had in a Pokémon game since Pokémon Alpha Sapphire, and that game was released eons ago. Basically it's been a long time since I actively enjoyed playing a Pokémon game, and Arceus was a breath of fresh air, especially with it's semi open-world shift and seamless battle transitions. Sure, it looked a little rough around the edges, but the sneaky open-world Pokémon capturing gameplay more than made up for it.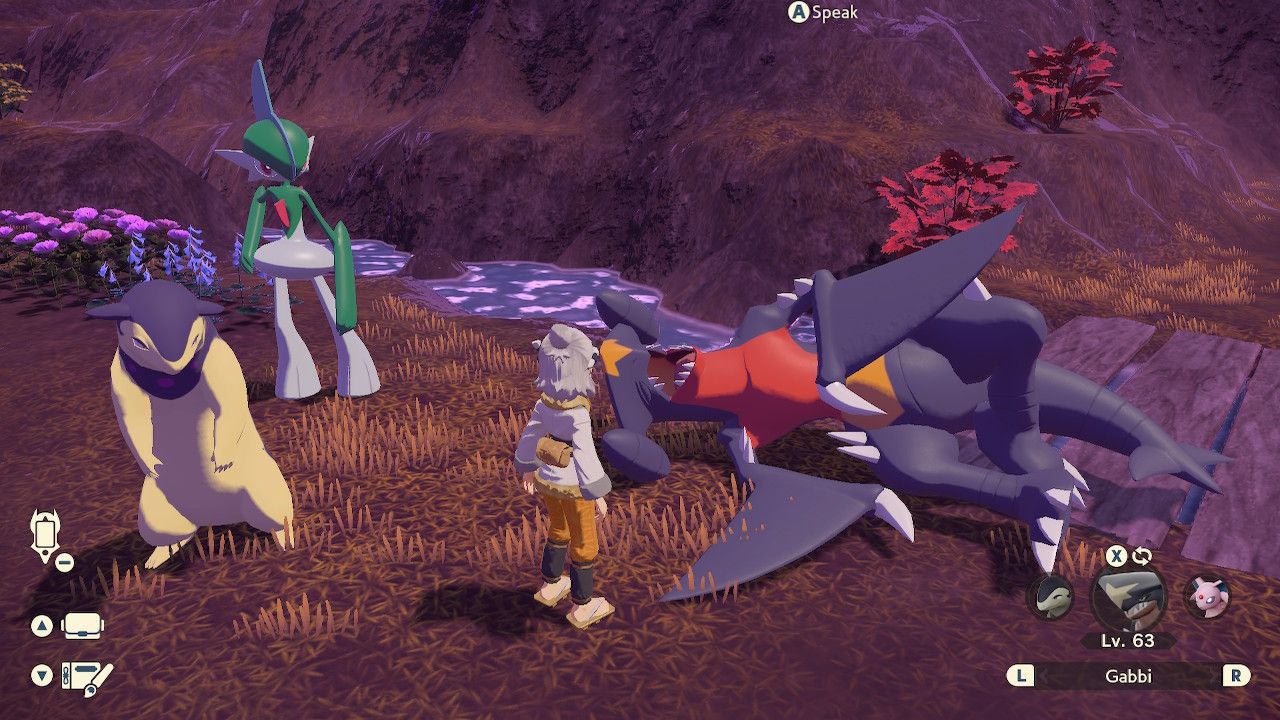 As for Pokémon Violet, I'll say the following:
Do I know that Pokémon Violet is a buggy mess? Yes.
Do I think that it's acceptable that it's a buggy mess? Absolutely not.
Would I still recommend playing it despite its flaws? …Yes, if you can stomach paying the price for it, or have the resolve to find other means of trying the game. It's fun!
Those three points basically summarize how I feel about Pokémon Violet. I grouped the two of them because, well, they both released in 2022, are Pokémon games, and Arceus heavily influenced the direction of Pokémon S/V, I imagine.
I have a love-hate relationship with Pokémon Violet, and I don't think I'm alone in feeling that way. One one hand, it takes all the things I loved about Pokémon Arceus and combines it with the elements I love from classic Pokémon titles, but on the other hand, it just looks, performs, and feels so unpolished for a game with probably astronomical amounts of resources to take advantage of, and that's putting it mildly. I appreciate it for its amazing story and the laughs I had with (and despite) all the bugs I've experienced (disappearing ground and Pokémon sliding off cliffs included), but I hope Game Freak gets it together and puts a little more effort into polishing their next main line title.
---
Special Mentions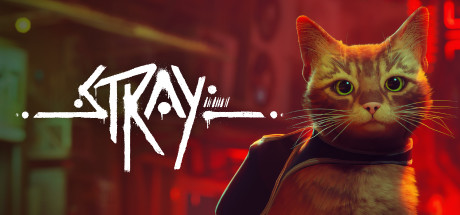 Kitty game. Dedicated meow button. Surprisingly deep. Runs beautifully on the Steam Deck. The soundtrack is also beautiful.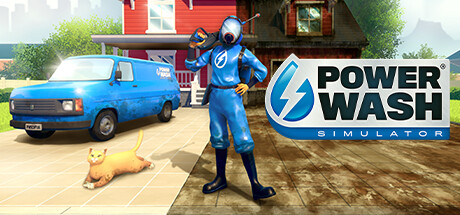 Yep. Sometimes you just want to clean really grimy and grubby things in a really satisfying way while sitting in your bed or chillin' at the airport. The perfect no-thoughts-head-empty game to unwind to. I'd recommend some lofi jams or light jazz in the background to complete the experience. It's also on PC Game Pass.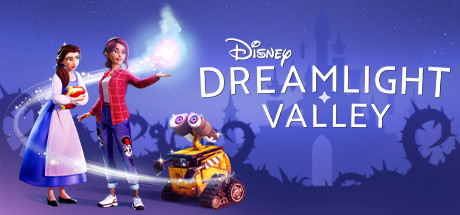 Animal Crossing but it's Disney. Plenty of customization options when it comes to your character, and to redecorating the town. Steam Deck verified, and available on PC Game Pass.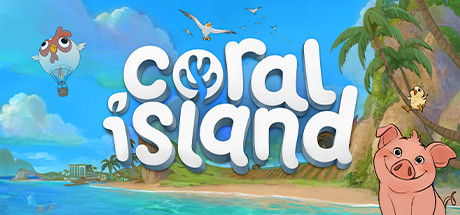 For the Stardew Valley / farm sim enjoyers. In Early Access, but has great potential, and actively being improved. Plenty of things to keep yourself busy in the game. So many characters to befriend and court by giving oddly specific gifts to. IIRC this is also available through PC Game Pass.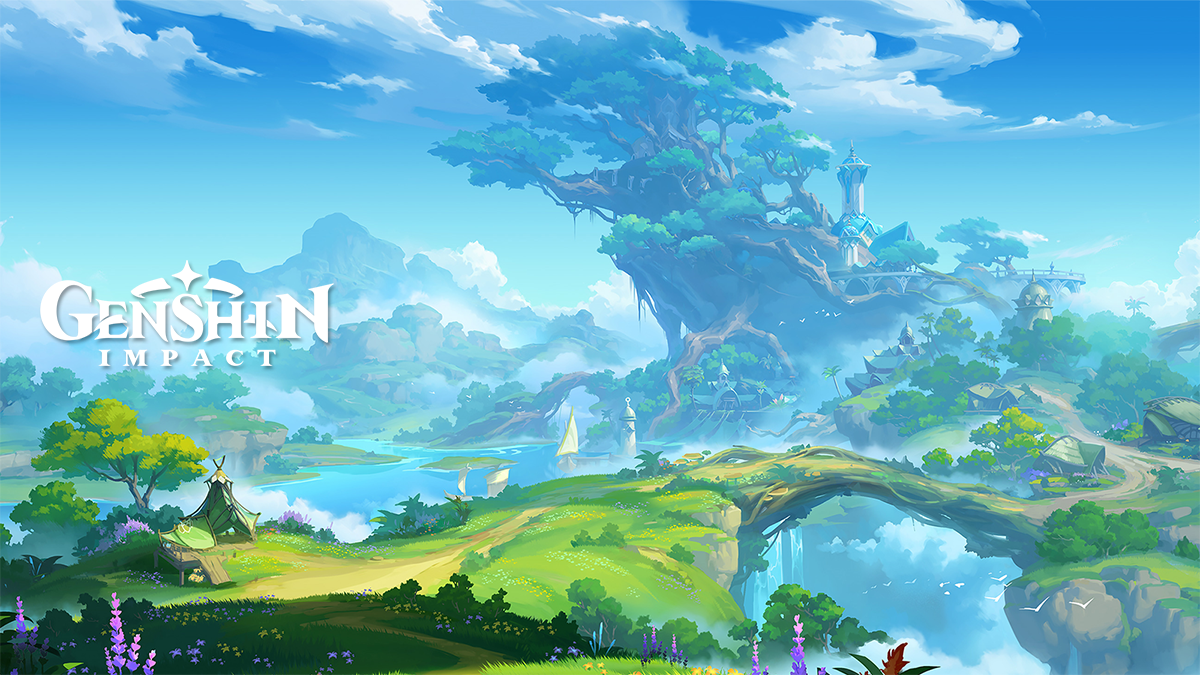 Sumeru is a gorgeous region (I'm weak for lush forests and desert vibes), Nahida is the cutest, gameplay mechanics in Sumeru are well thought-out (e.g., traversal, Aranara realms), and the OST slaps again. I still play this game every day and it's been 2 years. Looking forward to another 5. (I think?)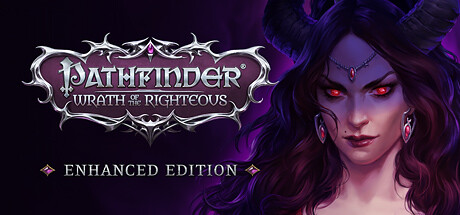 Technically these games weren't released in 2022 (Kingmaker was released back in 2018 and WOTR in 2021), but I discovered them in 2022 and now I adore them. I love a good CRPG, and for some reason I hadn't learned about the Pathfinder games until recently. If you like high fantasy stories with ridiculous amounts of rich lore, plenty of options to create and build your player character to your liking, complex storylines, and a classic party-based RPG experience, the Pathfinder games might be a perfect fit—they were for me. :)
---
Everything Else I Loved in 2022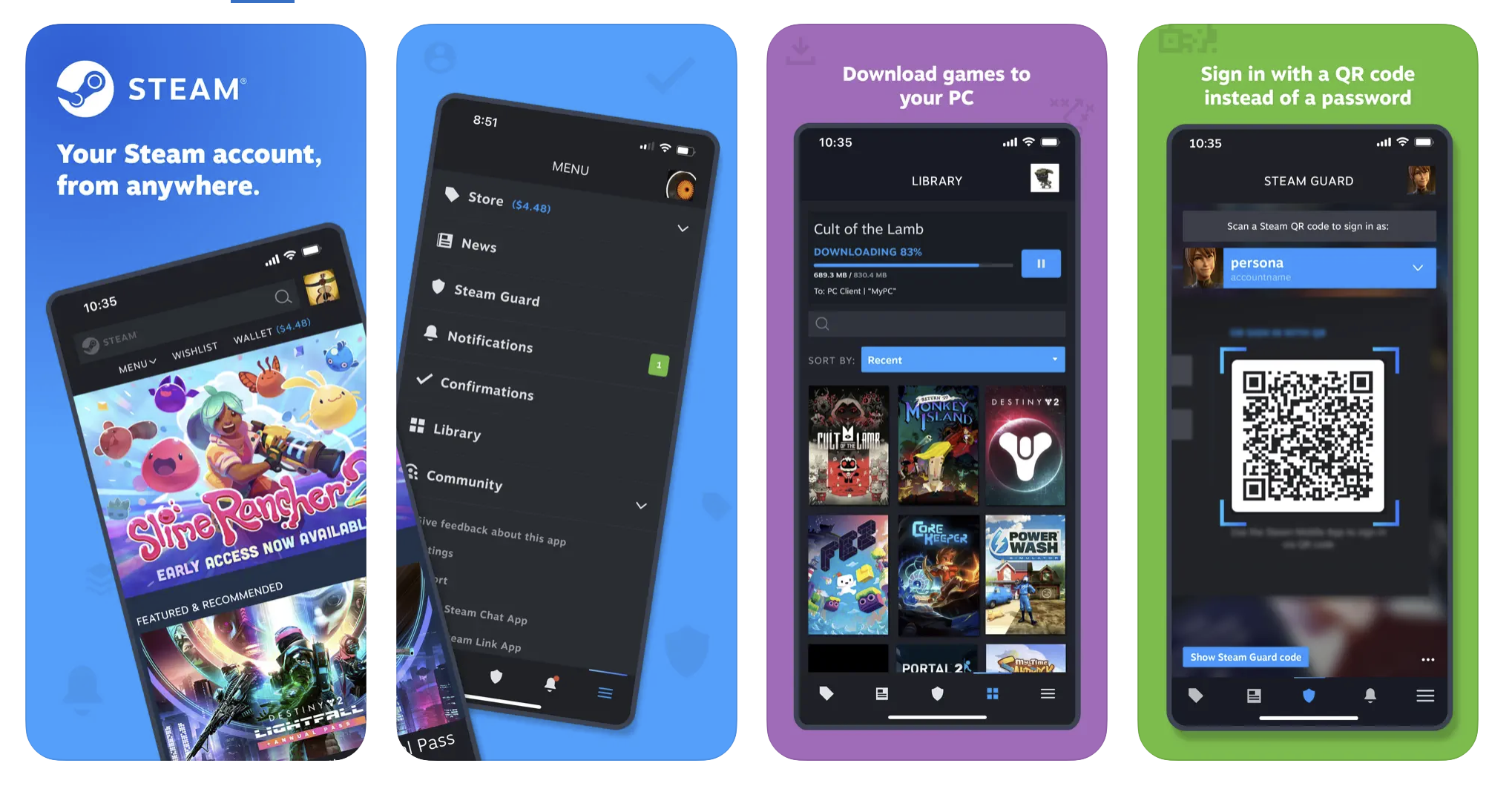 Turn on notifications for game sales on your wishlist, and it's the perfect (and probably dangerous) companion to the Steam Deck. It's available on the iOS store here, and for Android phones here.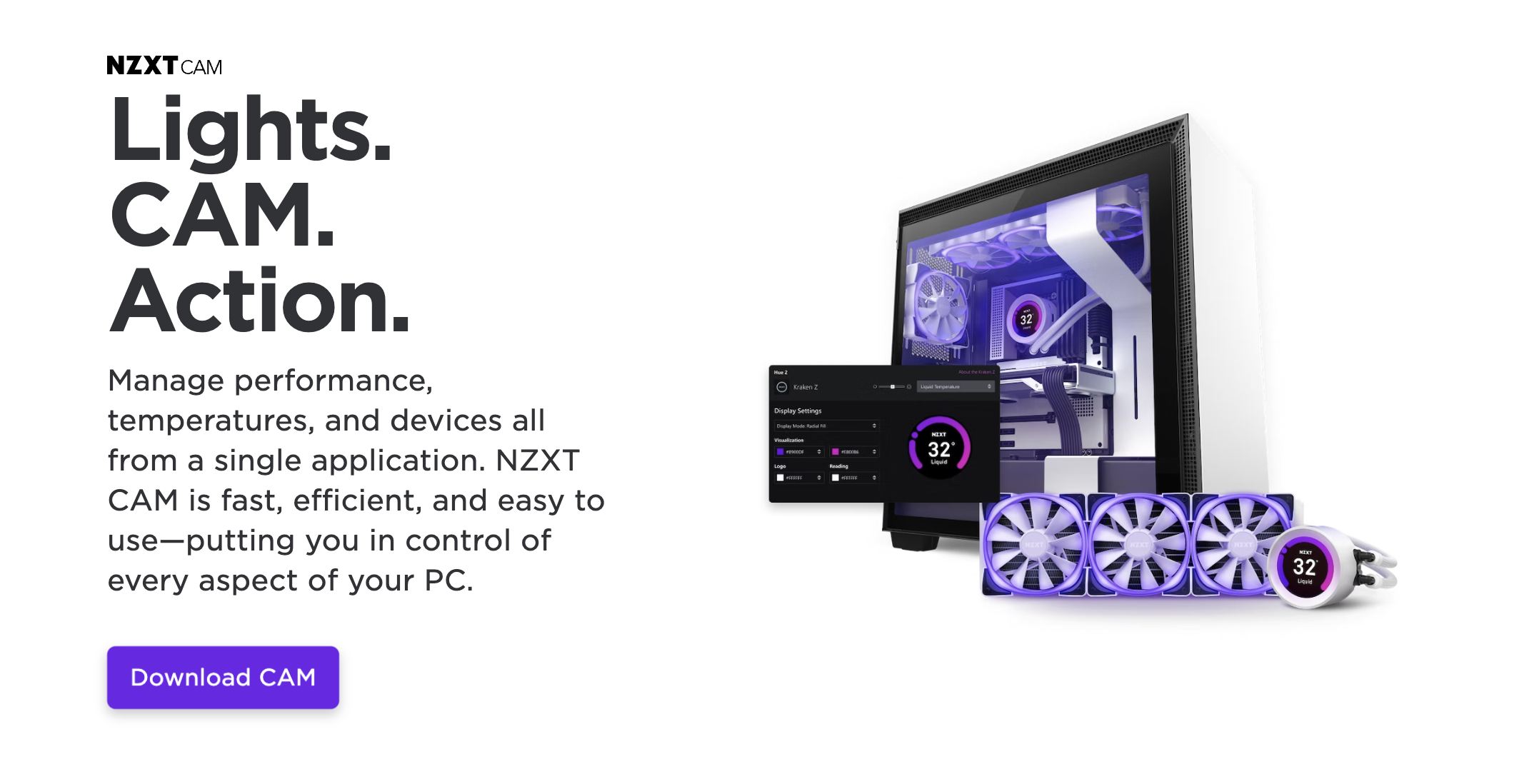 When I was looking for software to take advantage of my lil' horizontal 8" screen I found to sit perfectly underneath my main ultrawide gaming monitor so that it could finally become the sensor panel for my PC it was always meant to be, I had trouble looking for an option that was 1) free or not too expensive and 2) would look nice on the lil' screen. AIDA64 was recommended to me, but it was a bit expensive, and I wasn't sure I needed all the features. I find that NZXT Cam's Mini Mode fit my needs perfectly, is configurable, and best of all, it's free! I first used it when I didn't even have a single NZXT component in my build and it worked perfectly. You can download NZXT Cam here.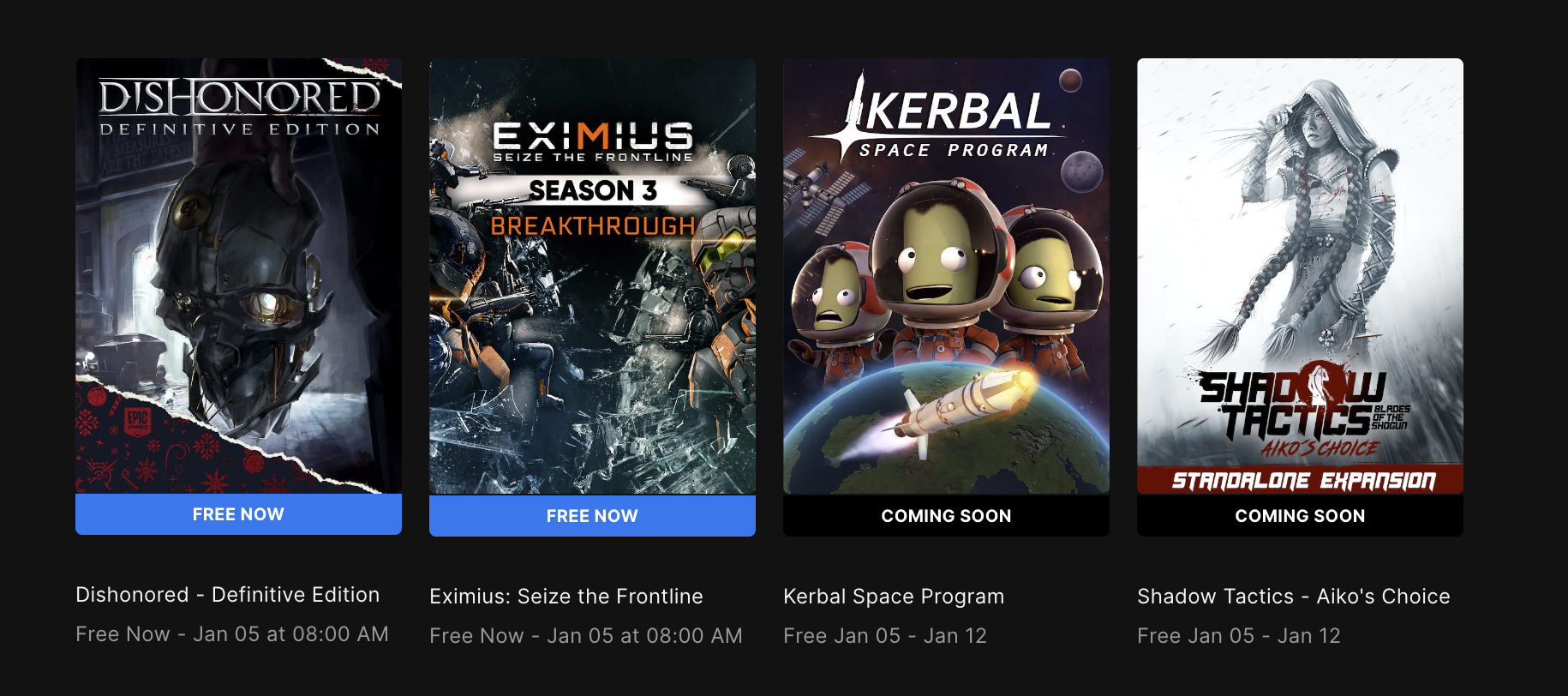 For some reason, I never knew that Epic's Game Store gives out free games on a weekly basis until 2022. That's it.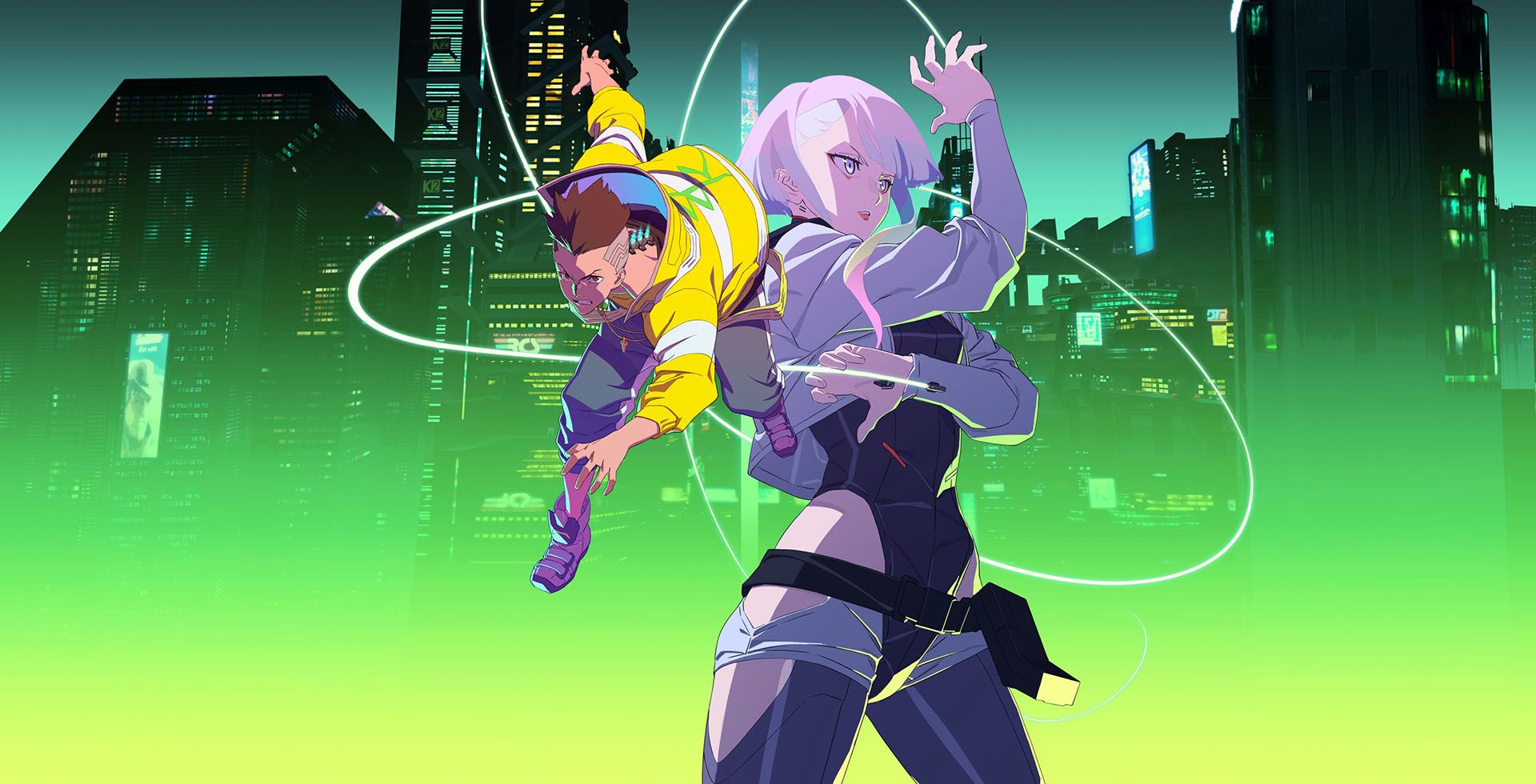 Disclaimer: this show really isn't for everyone (the obvious being that it's not for kids)—it's gory, gritty and filled to the brim with violence. But it is a beautifully animated show with a pretty heart-wrenching story and great characters, and it really breathes more life into the setting of Night City, which you can experience for yourself in Cyberpunk 2077. If you've played Cyberpunk 2077, I'd definitely say it's worth a watch. If you haven't played CBP 2077, but are interested in a gritty, gory, violent and gorgeous anime with compelling characters, maybe give it a shot.
Lucy is the single reason why my V changed from her mantis blades to running with a monowire.
---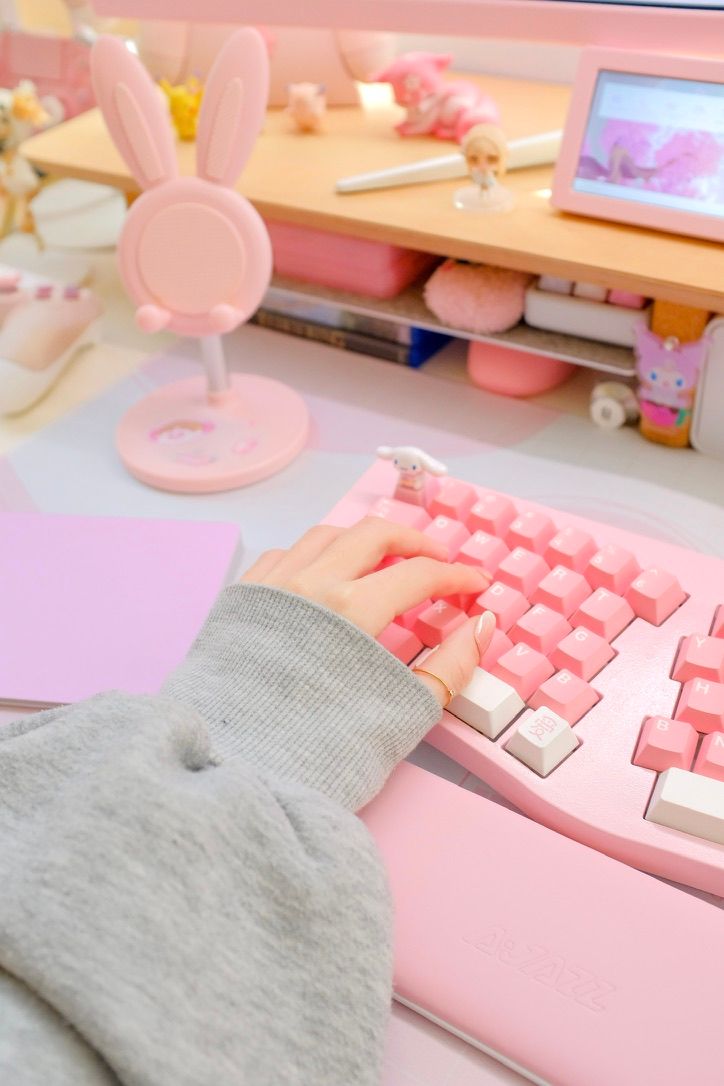 And that wraps up everything I loved using, loved playing, or just especially liked in 2022. There was a lot to sort through, honestly, since I've made a lot of changes to my own setup and played quite a few games, but this is the best I can offer you at the moment, and I hope it provides you with some ideas on what products and games you might be interested in trying out.
I'm excited to see what products will be released in 2023, and even more excited to finally get my hands on games I've been waiting for in 2023. Here's to another year in the books, and to another exciting year of gaming, especially as we kick off the new year. Happy comfy (and cute) gaming! ♡