👋
This post is from an older version of this blog, and was originally written in late 2020. Updates (and perhaps a Mac version) are planned soon!
a guide to making your computer a comp-cuter ✨ in celebration of 2021 😘
Your desktop, but make it kawaii af.
Nothing brings me more joy than making things cuter, but I think that's super obvious if you know a little bit about me already. 😌 😂 🎀
With that in mind, I wanted to share what I know about making your PC desktop* cuter, which is incredibly important to those of us who want to make their setup peak aesthetic. 🥺✨
I'll update this when I find more cute backgrounds, or even more artists to showcase. Please feel free to comment if you find any more that you'd like to share with other people, and I'll happily add and credit you! 💕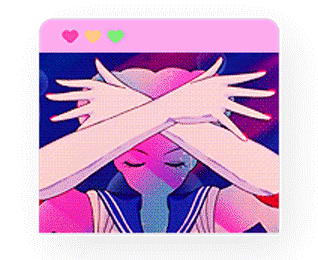 ---
For the purpose of this guide, we'll focus on 3 parts of your desktop!
Your background ✨
Your cursor 💗
Your app icons 💕
For each section, I'll link you to some of my favorite resources. As I mentioned before, please comment below if you have anything else you'd like to share and I'd be happy to add! Hoping everything helps make your desktop cute af. 🥰
---
Your Background ✨
Backgrounds are the focal point of your setup and desktop, so you deserve only the cutest one! You can choose between a static background or a dynamic one for that added special touch. If you don't want to just have a single background on all the time, you can set it to rotate in your background settings. ʕ •ᴥ•ʔゝ☆
Here are my favorite resources for cute static backgrounds!
Static Backgrounds
Static backgrounds are just basic images with no extra frills.
I get most of my static backgrounds from my favorite artists, which I will link to in the next section! Otherwise, the official Sanrio Japan website and San-X websites have some super cute free backgrounds. Click on one of the options below to go directly to the download site. ʕ •ᴥ•ʔ
Sanrio US also has a wallpapers page but I haven't had any success in downloading the cute Cinna ones they have there.
Artists
Some wonderful artists also make art perfect for static backgrounds*. I've included some of my favorites below, and you can click on each one to go directly to their main platform (e.g., website, instagram, twitter). 🥰
*Please be aware that while they may be ok with you using their art for your personal use (e.g., using it as a background on your personal computer), redistributing the art without the original source is a no-no.
You can also probably find some cute background art on Pinterest* or other websites, but please take some time to find the original artist if you can! They probably have a lot more of where that came from at a higher quality and will likely appreciate your support. 💕
Dynamic/Animated Backgrounds
Wallpaper Engine is my latest obsession for animated backgrounds! 🥺  If you don't know what that is, it's an application you can buy on Steam to have animated backgrounds on your PC. I currently use it for the background I have on my gaming PC, and I've linked some of my favorite backgrounds below!
🎀  You can click on each one for the direct link to the background on Steam, and you can buy Wallpaper Engine here ($3.99 USD).
✨ A couple of tips:
Turn on the setting to pause the background animation when another app is in focus unless you're confident your PC has the juice to power that when you're playing a game without affecting your framerate. c:
Some of the backgrounds include music! You can turn lower that volume or completely turn it off in the background's settings.
---
Your Cursor 💗
If you're not a fan of your default cursor in Windows, you can change it! All you'll need to do is download some custom cursor files (I've linked some below), and replace your default cursors with each of the corresponding cursor files. 👏
If you need some extra help, I have a few screenshots below with tutorial text to help you apply your new cursors!
✨ A couple of tips:
Move all your cursor icon files to the cursors folder in C:\Windows\Cursors
Save the cursor in your current theme! Otherwise it'll reset every time you restart your computer.
Enable the drop shadow, it might help you make your cursor stand out more if you find it hard to locate.
---
Your App Icons 💕
Last but not least, we have your app icons. I'm actually one of those people who keeps their app icons as is on my PC (I like remembering what the icons to my games look like), but I change what my app icons look like on the Mac, oop. 😳
On the PC, it's pretty easy to change your app icons! To do so, you'll have to do the following:
Prepare your image—you'll need to convert it to an .ico file, which you can do here
I'd recommend that you change the icon size to at least 50 for both length and width and make sure you turn on "max" for fit
Right-click on the folder or app icon you want to replace with a new image
Click on the "customize" tab for folders or "shortcut" tab for apps
Click on "Change icon" and choose the .ico file from Step 1
Repeat for all of the folders and app icons you want to change!
I'd recommend grabbing some chat stickers to use as app icons! Ones from LINE and Kakao Talk are perfect, and you can find public PNGs of them on sites like Chatsticker. c:
---